Blog Asks:The End Of IP Cameras?
Yes, folks, Analog HD is poised to destroy IP video. So says this spam email I just received from Claudio at the CCTV Institute (my reference in CCTV, apparently).
Alas, it appears all my existing coax installations and equipment - ALL of them - are using the wrong BNC connectors. I have no idea what this means for my inevitable transition to Analog HD. Maybe they're better suited to IP video's other nemesis, HDcctv?
---
- The migration from analog to IP is a complex and expensive task :

- All analog cabling is removed to be replaced by structured network cabling;

- The site will be unprotected until the new IP system is deployed;

- Migration has to be done at once, which means that the customer must have funds available for it;
apparently the author hasn't heard of hybrid systems or possibly has not done a system cut over before while leaving the existing system running while adding new cameras...
I know the author and he never ever supported IP cameras... he never liked IP and has always fought it... I think he has always been biased towards analog because he worked for analog products manufacturer/distributors so I would only expect something like this...
Additionally in Brazil (where he is from), IP Cameras sales have been increasing a lot, while analog has been shrinking and HD analog is almost non-existent..
Over 90% of all cities in Brazil that has surveillance cameras are IP... The ones with analog were old projects and/or tender was directed to an analog provider... I would just like to see how you would build a complex city surveillance system with HD analog cameras...
I don't take the merit of HD analog.. Each technology has its Pros and Cons and its field of application... I would not count on the death of IP cameras by HD analog now or ever...
If Claudio is in a country that's 90% IP and he's got ready access to Analog HD product and has his marketing material in order, then he could really make a bundle!
Btw, if I'm not mistaken he is/was a member.
Ok this article is perhaps more than a tad biased, right off the bat we are presented with this characterzation of the conflict: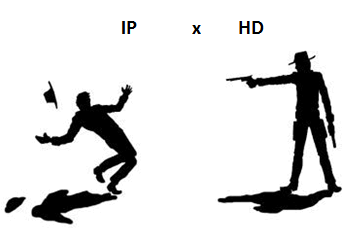 Which shows an apparently unarmed IP cowboy being gunned down by a flat footed, doubly armed HD assassin, at close range, with a long barrel pistol that Wyatt Earp would have envied.
Yet other eye-witnesses and more even-handed publications simply reported the duel like so: