Theme Park Sign: Biometrics Is NOT A Fingerprint
This picture is making the twitter rounds, apparently taken at a Six Flags theme park:
This sign is supposed to allay park-goer privacy fears that fingerprints could potentially be stolen and misused.
Technically, the sign is correct; fingerprint scanners typically read/store numerical data, not pictures.
However, do you think this disarms fear of misuse? If you explained biometrics this way to your customers, would this help relax their apprehension?
---
This is also technically misleading, if not incorrect. Even if it's 'just' a 'mathematical representation', it is based on one's real fingerprint. If you know the algorithm they used to convert your fingerprint into 'math', you could revert back into (at least a very close approximation of) one's real fingerprint.
I've seen such explanations before, it strikes me as disingenuous.
biometrics.gov publishes a Top 10 FAQ list
#2 on the list asks - "What Are The Common Biometrics?
Fingerprint is the first thing listed in the answer. -----> take that Six Flags sign maker!
They may have Six Flags but you only get Three Strikes and this sign maker has been warned before for the same type of thing, shown here...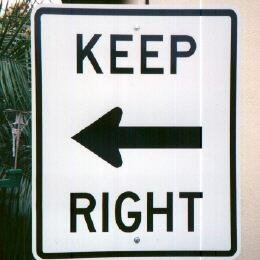 As well as
But, if I was hired by the sign maker for an obscene sum as a defense team strategist, I would argue that the part of the sign that read "Biometrics are finger scans NOT fingerprints" does not claim that:
Fingerprints are not Biometrics but rather that Biometrics are not Fingerprints. Which is not necessarily the same thing. Just in the same way that the sentence:
Lunch is Tuna on White NOT Turkey on Rye does not imply that Turkey on Rye is not a lunch food, but rather that in this circumstance it is not available as a lunch.
And so the sign is really saying that the Biometric in use here is finger scans not fingerprints, which is readily apparent when one reads the entire signage.* Re-direct, Counselor Major?
*But like I said it would have to be an obscene amount of money to even go there.
Lol. I would bet if they actually ran the fingerprints against a criminal database at Six Flags Magic Mountain, they would be surprised at the number of positive hits for LA gangbangers.