Do We Need More Non-White Cameras?
---
It would be intresting to see how black camera housings effect cameras reliability when installed in sunny high heat environments.
It's ironic that Samsung's black bullet cameras have model numbers starting with SNO.
There have been very few times a client has complained about color choices. The ones that have got the housings painted. I can see some value though and a creative manufacturer could probably very cheaply make some plastic snap on covers in various colors, at least for domes. Bullet/Torpedo could be more challenging but thinking about that you could cover the bottom 2/3 and make a more attractive camera.
Definitely would like more dark colors...Samsung has a good line of dark bullet cameras that I've recently been using. I know from experience that painting PTZ housings black or darker colors can have poor results when the temps rise. Need to invent a powder coat process that has thermal insulaion properties. I'll get right on that...
Reference picture of the Samsung SNO-6084R.
What happened to that mainstay of analog antiquity, the magical "Silver Bullet"? The "coolest" of them all but now in declining numbers, possibly due to their current "dummy cam" association.
But of course the reason for that was because dummy camera makers copied the most used styles and colors of the day...
Few people realize it but you can get black housings or "skins" for many Axis cameras.
They're listed on this page, and it includes indoor and outdoor domes, though not the whole line.
Black housings would increase the temp inside the camera, unless it has proper ventilation.
Got to be careful when painting housings. If exterior, the heat build up numbers may be beyond the camera's rated test limits. Also, have heard of manufacturer's not honering their warranty if not a factory original.
Pelco offers custom colors (quite a few actually) They also used to have a unique approach to this issue that is truly cool and i don't see why the technique could not be used for any manufacture (notwithstanding the above). I think it's the same process as is used to wrap cars with those adds covering the entire body of the car. It involves a material can be "heat shrunk" over the housing. You can use patterns or colors by simply taking a digital picture of what you want. They print it on the material and apply it to the camera housing. Never used it, but it sounds like it would work well.
I wonder if there are any lessons from Apple's use of colors? When Apple brought out their iMac in 5 flavors, they were hugely popular.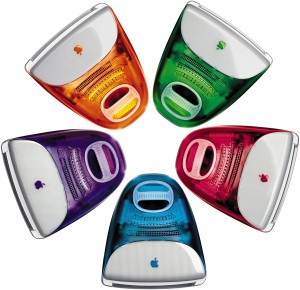 They even released their high-end tower model in bright blue.
However the corporate market wanted conservative colors and so the tower model became gray and then aluminum metal in subsequent models. The pretty iMacs lost their colorful plumage and became all white and then subsequently black and aluminum. I don't know why Apple dropped colors from their iMacs although I suspect some color models sold well and others were less popular which would have become a costly issue. So now we just have unexciting but shiny colors.
I like the idea of more camera colors but security is very conservative and I don't imagine there will ever be a great choice of colors in regular security cameras. I did think the Parsons Animals video cameras could have changed things but their extremely high prices ensured that they didn't.