COTS Server Preferences For VMS / NVRs
Good afternoon guys,
What is your go to COTS server for building a small/medium sized NVR? I can't seem to find any Workstations that will accept multiple 3.5" drives on the front.
I'm trying to find the perfect sweet spot that will provide the following:
Enough processing/Ram power to act as the surveillance host (I know that most VMS's don't require major high end server processing power, it's the client that draws more resources).
Preferably a backplane with space for at least 8 3.5" drives.
Hardware Raid 5/preferably 6.
Support for windows 7ProX64 (most servers only natively support server OS's)
Keeping price down.
I currently use HP DL380 Gen9 servers, but the price is a bit steep and makes the whole system a harder sell.
Your help is greatly appreciated!
Thanks!
---
We have been having great luck with the Dell Servers, they seem to be priced in the right ball park. I feel like the dells have a little more use in the surveillance world than HP. I really like to R530's for the middle of the road power house, the R230's which have 4 drives and you can customize them. Or if you want to go all out get the 730XD, that thing has some capacity you can build right in the box, then if you need more drop a DAS below it or start blowing cash on a SAN.
But if you don't want to deal with the server OS, you could always just get a workstation OS and put it on. If rack mount is not your thing, then they have tower servers as well. its worth looking into.
I'm a big fan of HP's Z440 series for price and performance, but it isn't exactly small.
Dumb question: why do you need it to accept multiple 3.5 slots on the front? Hot swap capability or?
I was really hoping to find a workstation that supports my needs.
As workstations come with native windows 7x64 support, they make support and setup easier. And, the VMS that I use sees no benefit of using a server OS.
Only hard part is finding one that has a backplane with hardware RAID 5/6 and is still budget friendly.
Supermicro has many options like this that may fit your needs.
iStarUSA also has some smaller options but you will be limited to 4 3.5 bays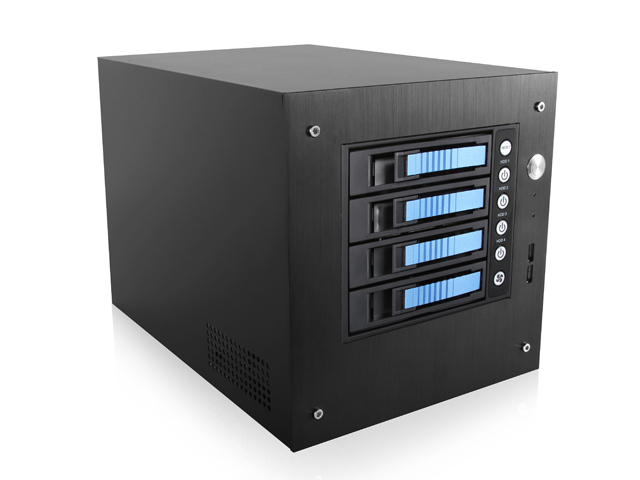 <I work here>
I suggest that you consider one of the offerings from Seneca. We design and manufacture All-in-one NVR servers specialized for video surveillance. DSS Servers
There are several chassis choices…including a 2U-8bay with 3.5 drives you have in mind and supported with Windows 7/8 or Server OS.
We use enterprise class components to help foster a highly reliable machine at a good cost.
Part of what we do to specialize the product is complete configuration of the system that optimizes the server for video recording/viewing and initialize the RAID set per request (part of the cost).
When you get the server, the machine is already set up for video surveillance functionality and you don't have to build the RAID yourself.
At the top of the 24bay chassis is the 192TB server recently mentioned here.
I run the DSS Engineering lab here and we are always running performance benchmarks on our systems and tune them for optimal performance in this space.
As a result, we are familiar with how many of the top VMSs run and our service department also has some of this expertise.
We are good partners with several VMS vendors as well and we have good technical contacts within them, which helps when there are issues in the field.
I know the struggle! I've been looking for a similar option, and at this point I am pretty confident that only way to get what you want at a good price is to build it. I've been looking for the same specs as you, but I also require that the RAID controller support hot spares, and that the chassis supports dual PSUs for failover AND has room for 3rd party video cards and a second NIC. I can build it for less than 2k, but custom builds=yuk so I won't. The other options that I've run across cost more than a R530 with an essentials license and 24x7 support, and given the more stable nature of a Server2012 the desktop loses it's appeal.
Joseph,
You asked.." I also require that the RAID controller support hot spares, and that the chassis supports dual PSUs for failover AND has room for 3rd party video cards and a second NIC."
We have those options already and several more For example, SFP+ fiber NICs if the unit will be storing/archiving to central iSCSI storage (which we also have).
Not much to add here as far as the COTS but as far as stability with a desktop OS vs a server OS: I have 2 servers with 50+ cameras each running (believe it not) Windows Vista that have been running perfectly fine and stable for 5+years. Also have upwards of maybe 1000 cameras on other installs all running on Windows 7. Very few issues to speak of.