2012 Mid Year Surveillance Industry Guide
by John Honovich,
IPVM
posted on Jun 09, 2012
About John
Contact John
The 397 page, 2012 Mid Year Surveillance Industry Guide, covering the key events and the future of the video surveillance market, is now available. Watch the short video below for an overview: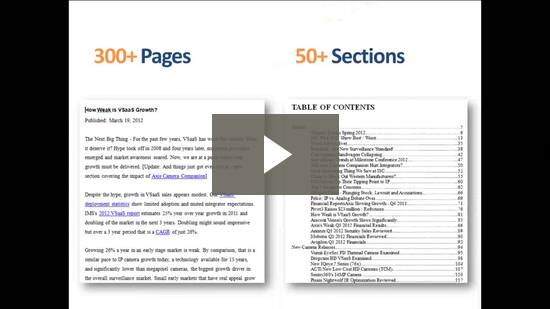 What's Inside
The Guide covers the surveillance market in great detail, from top trends to financial events, new products, case studies and key industry statistics.
If you want to know what is shaping the video surveillance industry, this Guide is a perfect choice. It aggregates thousands of hours of our research and reporting over the last 6 months so you can make better decisions going forward.
To see the details of what is inside, review the Table of Contents for the 2012 Mid Year Guide.
How To Get the Guide?
There are 3 ways to get the 2012 Mid Year Guide:
Non-Members: Become a Group PRO Member for $499 USD and get the 2012 Mid Year Guide plus 1 year IPVM PRO membership.
Personal PRO Members: You can login and upgrade your membership level to Group to get the Guide.
Group PRO Members: You can login and click the 'request to send' link to get a personalized copy emailed to you.
The complete report is available only to PRO Members.
***** ** *** **** ***** ** ******* * *** **** ** ******* ** * ***** **** ** *** *** *** * **** ***** *****.
*** ******* ** *** ***** *** ***** **** ******** ******* ** ******* ******* ********* ** *** *******. *** *** ***** ******** * ********** *** ** **** **** ** ** ********* ******* ** ***** **** *** ***-**** ******.
Most Recent Industry Reports
HD Analog Four Way Cameras Tested
on Aug 28, 2015
One camera that delivers AHD, HDCVI, HDTVI and 960H, all for as little as $15 a camera. Both on price and claimed support, that is pretty outstanding. And we are hearing from people all over the w...
The Prox Reader Shootout
on Aug 27, 2015
In this report, we put eight readers of the popular 125 kHz contactless format head to head and see which one rises to the top. Over a third of integrators call 125 kHz 'favorite', and tens of t...
Axis WDR Zipstream Low-Cost M1125 Tested
on Aug 26, 2015
Axis has been busy promoting speciality devices like IP horns and video intercoms. However, they have quietly released a new series of low-cost HD cameras with true WDR and Zipstream support, spec...
IPVM Launches Live Chat Room
on Aug 24, 2015
Now you can get help or talk with colleagues any time with IPVM's new Live Chat. Chat is as old as AOL chat rooms and as hot as mega-startup Slack. Benefits of Chatting Ask a question anytime,...
SMB Market Video Surveillance Guide
on Aug 20, 2015
This 13-page guide explains the key uses, design factors, and players in the small-medium business surveillance market. A global group of 90 integrators responded, each offering insigh...
The $100 Intrusion System Korner Tested
on Aug 18, 2015
Multi-year contracts at $30 per month are the norm. Now a startup is offering an intrusion system for $59 up front and just ~$3 monthly. The company, Korner, has billed itself as the "Home S...
Panasonic 4K / 12MP Camera Tested
on Aug 17, 2015
We bought the new Panasonic 4K / 12MP WV-SFV781L dome camera and tested it against the:  Axis P1428E Bosch NBN-80122 Dahua IPC-HFW4800E In this in-depth report, we tested: ...
Testing Petzi, The Pet Cam That Shoots Treats
on Aug 14, 2015
Do you love dogs? Do you love the Internet of Things? Then we have a product for you. Half camera, half remote-controlled pet treat dispenser, Petzi lets you shoot treats at your dog. That'...
Genetec Cloud Tested
on Aug 12, 2015
Not since Axis public and prolonged agony with AVHS, has a major manufacturer bet as heavily as Genetec is now doing on the cloud. Genetec started with Stratocast, which took a similar small ...
Samsung AHD Tested
on Aug 11, 2015
Not long ago, an individual MP camera was commonly $300 and a DVR was commonly $300. Now, Samsung is offering (4) MP cameras plus a DVR for ~$330 all-in. We bought the Samsung SDH-...