2012 Mid Year Surveillance Industry Guide
by John Honovich,
IPVM
posted on Jun 09, 2012
About John
Contact John
The 397 page, 2012 Mid Year Surveillance Industry Guide, covering the key events and the future of the video surveillance market, is now available. Watch the short video below for an overview: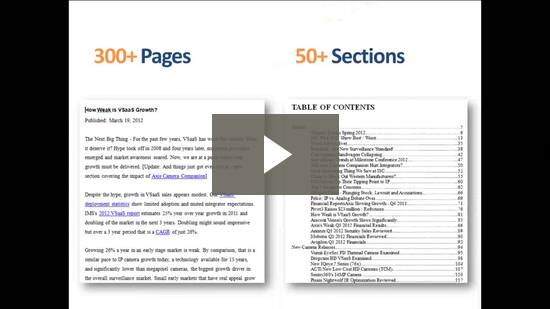 What's Inside
The Guide covers the surveillance market in great detail, from top trends to financial events, new products, case studies and key industry statistics.
If you want to know what is shaping the video surveillance industry, this Guide is a perfect choice. It aggregates thousands of hours of our research and reporting over the last 6 months so you can make better decisions going forward.
To see the details of what is inside, review the Table of Contents for the 2012 Mid Year Guide.
How To Get the Guide?
There are 3 ways to get the 2012 Mid Year Guide:
Non-Members: Become a Group PRO Member for $499 USD and get the 2012 Mid Year Guide plus 1 year IPVM PRO membership.
Personal PRO Members: You can login and upgrade your membership level to Group to get the Guide.
Group PRO Members: You can login and click the 'request to send' link to get a personalized copy emailed to you.
The complete report is available only to PRO Members.
Most Recent Industry Reports
Testing Axis High End HD Camera Q1615
on Sep 15, 2014
Axis core focus is the high end of the market. Their newest high end camera is the Q1615, aims to continue that, which they claim offers industry leading image quality and novel features, such as: ...
Testing Avigilon ACC 5 VMS
on Sep 10, 2014
In this report, we provide in-depth videos covering Avigilon Control Center 5's operation and configuration with 30+ minutes of screencasts providing clear explanations of ACC features including: ...
License Plate Recognition Axis App Tested
on Sep 08, 2014
License plate recognition (LPR) has historically been very expensive, requiring specialized hardware and software. An embedded LPR app from ipConfigure aims to change that, turning compatible Axis...
Testing March MegaPX Domes
on Sep 04, 2014
March Networks has been one of the bigger names in video surveillance recorders for a decade, with significant adoption especially in banking and retail. For a number of years, since the Cieffe&nb...
Milestone XProtect 2014 Tested
on Sep 03, 2014
In this third entry in our ongoing VMS test series we provide in-depth explanation and analysis of Milestone XProtect Enterprise 2014. Inside this report, we have 40+ minutes of video screenc...
The New Generation of Security Startups
on Sep 02, 2014
New entrants to the security market are few and far between. However, there is one area that is clearly driving new security startups - crowdfunding. Crowdfunding has grown from a curiosity ...
IP Camera Firmware Upgrade Directory
on Aug 28, 2014
Updating firmware can be one of the most tedious tasks involved in any IP camera system. It is not always clear what version is latest, what has changed or been fixed, and where to even download it...
Testing Hikvision High End Camera
on Aug 27, 2014
Chinese manufacturer, including the two mega ones, Dahua and Hikvision, are best known in the West for super low cost, entry level cameras. However, how well do their 'higher end' ones one work? ...
A Major Flaw in Long Lenses and PTZs Found
on Aug 26, 2014
Theoretically, long lenses should let you capture faces and license plates very far away. For example, over 900 feet away from a 1080p camera one should get over 40ppf from a 100mm lens. But how ...
Camera Calculator Adds Personal Scenes
on Aug 25, 2014
By popular request, now you can visualize and optimize your own applications with your own images. The IPVM Camera Calculator has added personal scenes to our 6 pre-set ones. You are going to love...