2012 Mid Year Surveillance Industry Guide
by John Honovich,
IPVM
posted on Jun 09, 2012
About John
Contact John
The 397 page, 2012 Mid Year Surveillance Industry Guide, covering the key events and the future of the video surveillance market, is now available. Watch the short video below for an overview: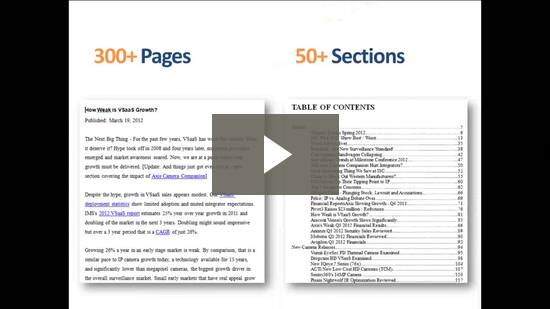 What's Inside
The Guide covers the surveillance market in great detail, from top trends to financial events, new products, case studies and key industry statistics.
If you want to know what is shaping the video surveillance industry, this Guide is a perfect choice. It aggregates thousands of hours of our research and reporting over the last 6 months so you can make better decisions going forward.
To see the details of what is inside, review the Table of Contents for the 2012 Mid Year Guide.
How To Get the Guide?
There are 3 ways to get the 2012 Mid Year Guide:
Non-Members: Become a Group PRO Member for $499 USD and get the 2012 Mid Year Guide plus 1 year IPVM PRO membership.
Personal PRO Members: You can login and upgrade your membership level to Group to get the Guide.
Group PRO Members: You can login and click the 'request to send' link to get a personalized copy emailed to you.
The complete report is available only to PRO Members.
Most Recent Industry Reports
Testing Scallop Panoramic Cameras
on Dec 19, 2014
For years, Arecont Vision's SurroundVideo line has been practically the only multi-imager option, but with their poor reputation, multi-imager cameras are still not widely used. Scallop Imaging ai...
Avigilon Acquires All ObjectVideo Patents
on Dec 18, 2014
Wow. You thought Object Video played hardball suing large manufacturers like Bosch, Samsung, Sony, Pelco, etc. Now, Avigilon has acquired all of OV's patents for $80.3 million, and all of th...
Best & Worst Places to Buy Surveillance
on Dec 17, 2014
Stores, distributors, manufacturers, the Internet, Chinese spam emails? Today, there are more options to buy surveillance than ever. But what are the best and worst places to buy? IPVM surveyed ...
2015 IP Camera Book
on Dec 15, 2014
This is the best, most comprehensive IP camera training in the world, based on our unprecedented testing. Now, all IPVM PRO Members can get it in a single 300+ page ebook, downloadable inside. T...
Tested: Quality Worse Dome Bubble On?
on Dec 11, 2014
Often, industry professionals will warn about three problems with using domes: The dome bubble degrades image quality The degradation is worse with megapixel cameras The degradation is worse t...
Hikvision HDTVI VS Dahua HDCVI
on Dec 10, 2014
With super low cost and full HD video, Analog HD has the most potential to disrupt the surveillance market of any new technology in years. With 1080p HD IR cameras, routinely being priced at ~$100...
Testing Day vs Night With IR
on Dec 09, 2014
IR illumination helps. When it gets dark, especially real dark, with no nearby artifical lighting, pretty much every surveillance camera (even 'super' ones) are going to deliver signific...
Major Moves - Security Manufacturer 2014
on Dec 08, 2014
This guide summarizes the biggest moves of security manufacturers in 2014, concentrating on acquisitions, fund raising, significant stock price shifts and major new product lines introduced. ...
HD Analog DVRs With VMS Software Tested
on Dec 05, 2014
New HD analog offerings from Dahua and Hikvision have proven to deliver HD video at radically lower prices (see IPVM test results - Dahua HDCVI 1.0, Dahua HDCVI 2.0, Hikvision HDTVI). However...
Manufacturer Sales Pitches Revealed
on Dec 02, 2014
IPVM sent a 'secret shopper' to ISC East 2014 to talk to manufacturer sales reps at their booths. We wanted to understand and contrast how they pitched to a prototypical end user. Would they fol...