2012 Mid Year Surveillance Industry Guide
by John Honovich,
IPVM
posted on Jun 09, 2012
About John
Contact John
The 397 page, 2012 Mid Year Surveillance Industry Guide, covering the key events and the future of the video surveillance market, is now available. Watch the short video below for an overview: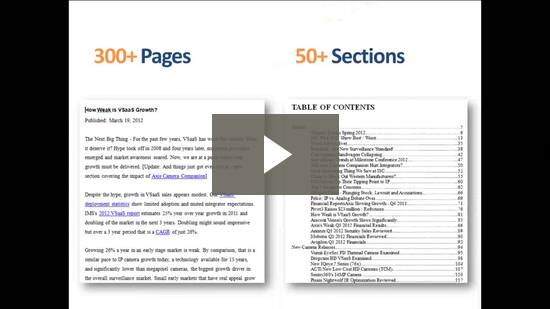 What's Inside
The Guide covers the surveillance market in great detail, from top trends to financial events, new products, case studies and key industry statistics.
If you want to know what is shaping the video surveillance industry, this Guide is a perfect choice. It aggregates thousands of hours of our research and reporting over the last 6 months so you can make better decisions going forward.
To see the details of what is inside, review the Table of Contents for the 2012 Mid Year Guide.
How To Get the Guide?
There are 3 ways to get the 2012 Mid Year Guide:
Non-Members: Become a Group PRO Member for $499 USD and get the 2012 Mid Year Guide plus 1 year IPVM PRO membership.
Personal PRO Members: You can login and upgrade your membership level to Group to get the Guide.
Group PRO Members: You can login and click the 'request to send' link to get a personalized copy emailed to you.
The complete report is available only to PRO Members.
Most Recent Industry Reports
Gain / AGC for Video Surveillance Guide
on Apr 23, 2015
Gain control is a critical, though often overlooked, factor in low light surveillance video. It is generally only noticed when the negative side effective of aggressive gain levels are seen, namely...
Testing Honeywell HQA HD-CVI
on Apr 22, 2015
HD analog support continues to expand, with Honeywell now releasing its own HD-CVI offering, awkwardly named "High Quality Analog" (HQA), offering up to 1080p video via analog. The big appeal is g...
Testing Axis Zipstream
on Apr 13, 2015
Has Axis found its breakthrough differentiator? Can they demand a premium for this? Axis claims Zipstream can "lower bandwidth and storage requirements by an average 50% or more." We upgrade...
New Products Spring 2015
on Apr 12, 2015
After very poor new releases in 2014 (see Spring 2014 and Fall 2014 directories), 2015 is already much better. Here are new products being announced in 2015: Avigilon First to Demo 7K Cameras ...
FLIR FX Tested
on Apr 08, 2015
FLIR is going after the home / consumer surveillance market with their FLIR FX. A few of the notable competitive features offered: Video analytics for search (RapidRecap) Built-in Battery Buil...
IP Network Setup Guide for Surveillance
on Apr 06, 2015
In this guide, we teach the fundamentals of setting up an IP video surveillance network, taking factory default cameras through to a fully configured and ready to run network. We explain these topi...
Testing Messoa 3MP LPC Camera
on Apr 02, 2015
License plate recognition has historically required specialized cameras with limited general surveillance use. Messoa is aiming to change that with the LPR606, a higher resolution 3MP claiming sce...
Security Integrator Finder Released
on Apr 01, 2015
The new Security Integrator Finder's goal is to list every integrator in the world, overlaid on Google Maps. Here's how you benefit: Integrators can more easily be found by end users and manufa...
Milestone LPR Tested
on Mar 31, 2015
How well does Milestone's LPR work? Milestone's LPR supports off the shelf IP cameras, integrating license plate recognition with the Milestone Smart Client for live video, playback, and alar...
4K Panasonic Tested (Panoramic)
on Mar 25, 2015
Panasonic has released their first 4K cameras, and surprisingly, they are panoramic, which they tout include high sensitivity 1/2" image sensors, true WDR, auto back focus, and other feat...