2012 Mid Year Surveillance Industry Guide
by John Honovich,
IPVM
posted on Jun 09, 2012
About John
Contact John
The 397 page, 2012 Mid Year Surveillance Industry Guide, covering the key events and the future of the video surveillance market, is now available. Watch the short video below for an overview: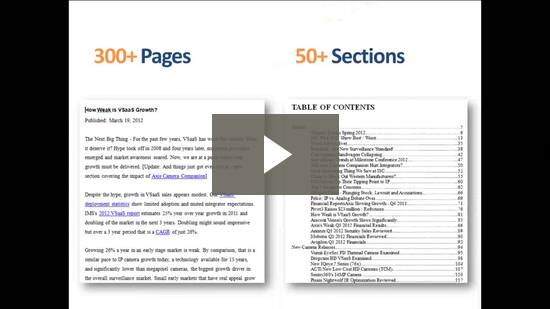 What's Inside
The Guide covers the surveillance market in great detail, from top trends to financial events, new products, case studies and key industry statistics.
If you want to know what is shaping the video surveillance industry, this Guide is a perfect choice. It aggregates thousands of hours of our research and reporting over the last 6 months so you can make better decisions going forward.
To see the details of what is inside, review the Table of Contents for the 2012 Mid Year Guide.
How To Get the Guide?
There are 3 ways to get the 2012 Mid Year Guide:
Non-Members: Become a Group PRO Member for $499 USD and get the 2012 Mid Year Guide plus 1 year IPVM PRO membership.
Personal PRO Members: You can login and upgrade your membership level to Group to get the Guide.
Group PRO Members: You can login and click the 'request to send' link to get a personalized copy emailed to you.
The complete report is available only to PRO Members.
Comments
Only
PRO Members
can view and submit comments for this article.
Most Recent Industry Reports
7 Key Surveillance Trends for 2014
on Apr 21, 2014
Here are the 7 key trends we see for the video surveillance market emerging in 2014: Low cost camera manufacturer competitive shift FLIR and Samsung aggressive expansion 4K camera problems e...
Testing Vivotek Smart Stream
on Apr 18, 2014
Reduce storage costs by 30%, claims Vivotek. Their new "Smart Stream" feature intelligently compresses video streams such that moving objects get higher quality than background, stationary pa...
ONVIF Mega Test
on Apr 16, 2014
In this groundbreaking report, we share findings of in-depth ONVIF testing. ONVIF Real World Integration We tested 14 camera manufacturers with 5 VMSes, performing 70 total integrations. The cam...
7 Quizzes - Can You Pass?
on Apr 14, 2014
A major new offering, now IPVM members can take a series of 7 quizzes, plus they can assign them to their co-workers who are also IPVM members. 7 Quizzes to Start We are starting with 7 quiz...
Super Low Lux Minidome Tested
on Apr 10, 2014
'Super' low light cameras have become increasingly common in box and full size cameras. However, no one we know has offered them in a minidome, the most common form factor for many users, valu...
Testing 'Megapixel' Analog Camera
on Mar 26, 2014
Megapixel analog sounds like a contradiction in terms. 'Analog' by definition, or at least in common use, is constrained by 60+ year old NTSC / PAL specifications and cannot be 'megapixel.' Howeve...
Ranking 95 Surveillance Manufacturers Interest
on Mar 24, 2014
IPVM has ranked interest levels in 95 surveillance manufacturers from most to least. These are the companies covered: Over 400 IPVM members selected which of these companies they were interested...
2014 Surveillance Test Results Guide Released
on Mar 19, 2014
Inside, get the 50 page IPVM 2014 Surveillance Test Results Guide and register for the 1 hour live webinar. In the past year, IPVM has spent thousands of hours conducting over 75 tests, representi...
Testing Pelco SureVision 2.0
on Mar 17, 2014
Pelco's new SureVision 2.0 line promises superior low light and wide dynamic range capabilities, claiming "industry-leading image quality in the most difficult lighting conditions." But does it del...