2012 Mid Year Surveillance Industry Guide
by John Honovich,
IPVM
posted on Jun 09, 2012
About John
Contact John
The 397 page, 2012 Mid Year Surveillance Industry Guide, covering the key events and the future of the video surveillance market, is now available. Watch the short video below for an overview: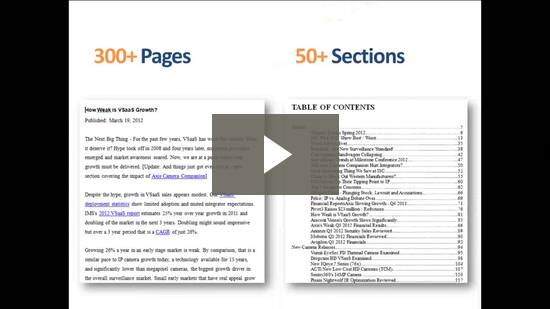 What's Inside
The Guide covers the surveillance market in great detail, from top trends to financial events, new products, case studies and key industry statistics.
If you want to know what is shaping the video surveillance industry, this Guide is a perfect choice. It aggregates thousands of hours of our research and reporting over the last 6 months so you can make better decisions going forward.
To see the details of what is inside, review the Table of Contents for the 2012 Mid Year Guide.
How To Get the Guide?
There are 3 ways to get the 2012 Mid Year Guide:
Non-Members: Become a Group PRO Member for $499 USD and get the 2012 Mid Year Guide plus 1 year IPVM PRO membership.
Personal PRO Members: You can login and upgrade your membership level to Group to get the Guide.
Group PRO Members: You can login and click the 'request to send' link to get a personalized copy emailed to you.
The complete report is available only to PRO Members.
***** ** *** **** ***** ** ******* * *** **** ** ******* ** * ***** **** ** *** *** *** * **** ***** *****.
*** ******* ** *** ***** *** ***** **** ******** ******* ** ******* ******* ********* ** *** *******. *** *** ***** ******** * ********** *** ** **** **** ** ** ********* ******* ** ***** **** *** ***-**** ******.
Most Recent Industry Reports
Axis Video Analytics Are Weak
on Oct 05, 2015
For more than a decade, video analytics has frustrated and disappointed users. Now, Axis has released their own "series of robust video analytics applications" that they call Guard Suite. Unf...
The 4MP Shootout - Dahua vs Hikvision
on Sep 30, 2015
4MP cameras are an important emerging trend in video surveillance, aiming to replace 1080p. This is being driven by new sensors from OmniVision that deliver almost twice the pixel count of 1080p a...
33 New Products Directory - Fall 2015
on Sep 28, 2015
 New products or major tech isssues that IPVM has reported on this summer / fall: Axis Releases Their Own Video Analytics Axis Non-IP Camera / DVR Kit Is Here BluB0X - The Most ...
Axis YouTube Livestreaming Camera App Tested
on Sep 25, 2015
Broadcasting live video has historically been complex and costly, with manual setup and pricey monthly subscriptions required. Now, Camstreamer is aiming to change that, with an Axis Camera A...
Anixter/Tri-Ed Northern Video Tested
on Sep 18, 2015
ADI is an IP video manufacturer now (see IPVM's ADI W Box test results). And now, their top rival, Anixter's Tri-Ed arm has also entered the IP video manufacturering business, under the North...
Axis Digital Autotracking Tested
on Sep 16, 2015
As camera resolutions continues to climb, the likelihood that you will ever display any camera at full resolution on a monitor declines. This is even more improbable for the normal configuration of...
Access Control Book 2015
on Sep 16, 2015
This book is the textbook for our Access Control Course, today is the last day to get in the course. This is the best, most comprehensive access control training in the world, based on o...
Hikvision iVMS-4200 Tested
on Sep 14, 2015
Though best known for their camera and recorders, mega Chinese manufacturer also makes their own VMS software. In this report, we share test results of Hikvision's iVMS-4200, their VMS that works ...
Google Breaks Surveillance Browser Support
on Sep 09, 2015
Now you have a choice. Broken video surveillance web browser support or an insecure, prone to crashing interface. As Google has been warning for ~2 years, Chrome has now discontinued NPAPI suppor...
The $28 Million Video Doorbell Ring Tested
on Sep 08, 2015
In 2015, video doorbells are big business. Ring landed $28 million in funding from Richard Branson and others who are betting that this is the next big thing. However, when Ring's first generation...