2012 Mid Year Surveillance Industry Guide
by John Honovich,
IPVM
posted on Jun 09, 2012
About John
Contact John
The 397 page, 2012 Mid Year Surveillance Industry Guide, covering the key events and the future of the video surveillance market, is now available. Watch the short video below for an overview: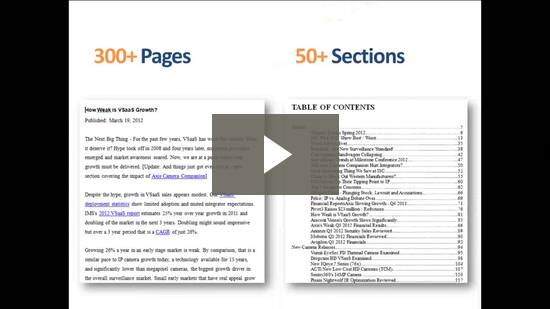 What's Inside
The Guide covers the surveillance market in great detail, from top trends to financial events, new products, case studies and key industry statistics.
If you want to know what is shaping the video surveillance industry, this Guide is a perfect choice. It aggregates thousands of hours of our research and reporting over the last 6 months so you can make better decisions going forward.
To see the details of what is inside, review the Table of Contents for the 2012 Mid Year Guide.
How To Get the Guide?
There are 3 ways to get the 2012 Mid Year Guide:
Non-Members: Become a Group PRO Member for $499 USD and get the 2012 Mid Year Guide plus 1 year IPVM PRO membership.
Personal PRO Members: You can login and upgrade your membership level to Group to get the Guide.
Group PRO Members: You can login and click the 'request to send' link to get a personalized copy emailed to you.
The complete report is available only to PRO Members.
Most Recent Industry Reports
Top Manufacturers Gaining and Losing Ground
on Oct 27, 2014
IPVM survey results of 100 integrators show what manufacturers are gaining and losing ground in 2014. Integrators answered 2 questions: "Added: This year, in 2014, what new product lines have you...
Getting Started With Your IPVM Membership
on Oct 24, 2014
Here's how to get started and get the most out of your IPVM membership. Getting Started Video Presentation You can watch the 20 minute video immediately below or scan through the whole post for i...
Hikvision HDTVI Cameras Tested
on Oct 22, 2014
HD Analog is the most interesting new trend in the industry now, claiming HD quality over legacy coax, with simpler configuration and lower prices than IP. IPVM has tested two of the ent...
Testing Arecont Omni
on Oct 20, 2014
The Arecont SurroundVideo Omni is one of the most novel new camera offerings in the past few years. Like their 180 and 360 predecessors, the Omni supports 4 imagers / cameras inside. The major adv...
The Worst HD Quality Camera Ever (Samsung 1280H)
on Oct 15, 2014
Samsung, what are you doing? Their new 1280H offering significantly stretches video and is one of the most bizarre offerings we have ever seen. Earlier this year, Samsung trumpeted that 1280H wou...
Winners Losers Fall 2014
on Oct 13, 2014
We are all losers, IPVM included. The historically poor new releases for Essen / ASIS make 2014 the worst year for surveillance innovation in, at least, a decade. (See our in depth manufacturer re...
Smart IR Panoramic Camera Tested
on Oct 10, 2014
Panoramic cameras are overwhelmingly quite bad in low light. Now, manufacturers are starting to add IR to them. We tested the Hikvision panoramic IR earlier this year. Now, Vivotek has released t...
Testing Speco IP Intensifier
on Oct 06, 2014
Chances are you have seen Speco's promotion of its Intensifier HD IP line, with ads online and in trade mags claiming color images down to an incredible 0.0005 lx. Speco funded a vacation f...
Testing IP Camera Latency
on Sep 26, 2014
How much does latency impact IP cameras? We tested a number of combinations, like so: In this report, we break down: Average latency metrics in our test Key drivers of latency Variations i...