PPF Test - Getting High Quality Surveillance Video
by John Honovich,
IPVM
posted on Apr 04, 2010
About John
Contact John
Megapixel cameras foster hope for much higher quality surveillance video but how much more and in what conditions? In this report, we answer these questions in depth based on extensive testing.
The most aggressive marketing claims suggest a single megapixel camera is equals 95 CCTV cameras. Does that mean you could literally replace 95 CCTV cameras? If not 95, is it 25 or 16 or 4, etc.?
A 'Magic Number'
The megapixel vendors are now advocating a 'magic number' of 40 pixels per foot. They claim that if your Field of View provides 40 pixels per foot (e.g., a 1920 x 1080 camera covering a 48 foot wide FoV), then you can see facial details and license plates clearly.
Some vendors qualify their number by saying it is a 'minimum' but then fail to offer any further disclosure or explanation. This is as helpful as the government coming to your house and telling you owe a minimum of $1,000 in taxes.
Our Test
Over a 3 week period, we went out and tested these assumptions using a variety of cameras, resolutions and Field of Views. The video below overviews how we approached our tests: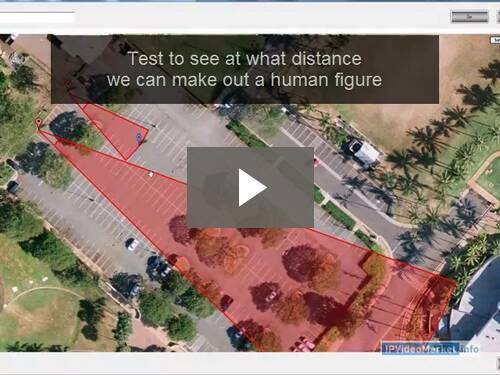 Our Findings
Our test results show that achieving high quality surveillance is much more complicated than the magic numbers nor multipliers being advocated today. While megapixel surveillance can significantly improve surveillance coverage, many issues and nuances exist that must be properly appreciated when designing and deploying systems. We examine these in depth in the PRO section.
The complete report is available only to PRO Members.
Most Recent Industry Reports
Best Manufacturer Support 2014
on Jul 28, 2014
Integrators told us who the best and worst manufacturers are at providing customer support were. The companies that stood out included Arecont Vision, Avigilon, Axis, Exacq, Genetec, Hikvision, Le...
Testing Genetec Security Center
on Jul 23, 2014
This is IPVM's first in a series of all new, in-depth test reports on video management software. We start with Genetec's Security Center. Here's a 50 second video overview: Inside this report a...
Panasonic Series 6 IP Cameras Tested
on Jul 21, 2014
Can Panasonic make a comeback? One of the early entrants in IP cameras, Panasonic has been slipping, dues to faster and more aggressive competitors. Now, Panasonic has released a sixth generation...
Favorite Access Control Software 2014
on Jul 16, 2014
What are the favorite access control software platforms? Is it the elder incumbents like Honeywell, Lenel and Software House? Or can newer providers like Brivo, Genetec or S2 make a dent? Just lik...
Testing Samsung vs Google/Dropcam
on Jul 14, 2014
Samsung is charging hard into IP cameras. Last year, they attacked the professional market with their WiseNet III launch. Now, they are going after the consumer / residential market with their "Sm...
Summer 2014 IP Camera Course
on Jul 10, 2014
Registration is CLOSED. Next course will start in October. IPVM's industry leading IP camera course provides certification and enables you to master the key concepts, drivers and factors in select...
Testing the Smallest HD Cameras
on Jul 09, 2014
Miniature HD IP cameras are a growing trend. It started with cameras that had small 'heads' but large 'base' units. Increasingly, though, the bases are shrinking. Recently, we even found one withou...
IP Camera Statistics 2014
on Jul 07, 2014
All IPVM members can download our new IP Camera Statistics 2014 report.  Here's what's inside the 54 page guide: This is a companion report to Favorite IP Cameras 2014, Worst IP Cameras ...
Testing Varifocal Minidome (IQeye)
on Jul 02, 2014
Minidomes are increasing in popularity, as IPVM statistics show. However, the most common objection to using minidomes is the lack of varifocal lenses. In this report, we tested the IQinVision&nbs...