PPF Test - Getting High Quality Surveillance Video
by John Honovich,
IPVM
posted on Apr 04, 2010
About John
Contact John
Megapixel cameras foster hope for much higher quality surveillance video but how much more and in what conditions? In this report, we answer these questions in depth based on extensive testing.
The most aggressive marketing claims suggest a single megapixel camera is equals 95 CCTV cameras. Does that mean you could literally replace 95 CCTV cameras? If not 95, is it 25 or 16 or 4, etc.?
A 'Magic Number'
The megapixel vendors are now advocating a 'magic number' of 40 pixels per foot. They claim that if your Field of View provides 40 pixels per foot (e.g., a 1920 x 1080 camera covering a 48 foot wide FoV), then you can see facial details and license plates clearly.
Some vendors qualify their number by saying it is a 'minimum' but then fail to offer any further disclosure or explanation. This is as helpful as the government coming to your house and telling you owe a minimum of $1,000 in taxes.
Our Test
Over a 3 week period, we went out and tested these assumptions using a variety of cameras, resolutions and Field of Views. The video below overviews how we approached our tests: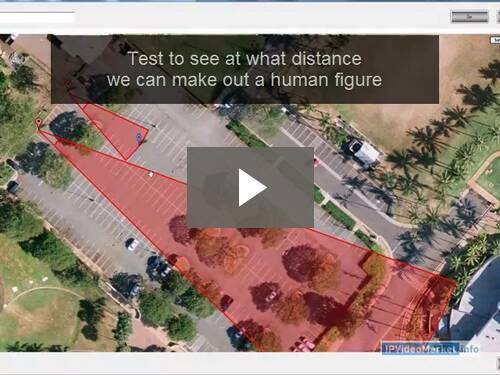 Our Findings
Our test results show that achieving high quality surveillance is much more complicated than the magic numbers nor multipliers being advocated today. While megapixel surveillance can significantly improve surveillance coverage, many issues and nuances exist that must be properly appreciated when designing and deploying systems. We examine these in depth in the PRO section.
The complete report is available only to PRO Members.
Comments
Only
PRO Members
can view and submit comments for this article.
Most Recent Industry Reports
7 Key Surveillance Trends for 2014
on Apr 21, 2014
Here are the 7 key trends we see for the video surveillance market emerging in 2014: Low cost camera manufacturer competitive shift FLIR and Samsung aggressive expansion 4K camera problems e...
Testing Vivotek Smart Stream
on Apr 18, 2014
Reduce storage costs by 30%, claims Vivotek. Their new "Smart Stream" feature intelligently compresses video streams such that moving objects get higher quality than background, stationary pa...
ONVIF Mega Test
on Apr 16, 2014
In this groundbreaking report, we share findings of in-depth ONVIF testing. ONVIF Real World Integration We tested 14 camera manufacturers with 5 VMSes, performing 70 total integrations. The cam...
7 Quizzes - Can You Pass?
on Apr 14, 2014
A major new offering, now IPVM members can take a series of 7 quizzes, plus they can assign them to their co-workers who are also IPVM members. 7 Quizzes to Start We are starting with 7 quiz...
Super Low Lux Minidome Tested
on Apr 10, 2014
'Super' low light cameras have become increasingly common in box and full size cameras. However, no one we know has offered them in a minidome, the most common form factor for many users, valu...
Testing 'Megapixel' Analog Camera
on Mar 26, 2014
Megapixel analog sounds like a contradiction in terms. 'Analog' by definition, or at least in common use, is constrained by 60+ year old NTSC / PAL specifications and cannot be 'megapixel.' Howeve...
Ranking 95 Surveillance Manufacturers Interest
on Mar 24, 2014
IPVM has ranked interest levels in 95 surveillance manufacturers from most to least. These are the companies covered: Over 400 IPVM members selected which of these companies they were interested...
2014 Surveillance Test Results Guide Released
on Mar 19, 2014
Inside, get the 50 page IPVM 2014 Surveillance Test Results Guide and register for the 1 hour live webinar. In the past year, IPVM has spent thousands of hours conducting over 75 tests, representi...
Testing Pelco SureVision 2.0
on Mar 17, 2014
Pelco's new SureVision 2.0 line promises superior low light and wide dynamic range capabilities, claiming "industry-leading image quality in the most difficult lighting conditions." But does it del...