PPF Test - Getting High Quality Surveillance Video
by John Honovich,
IPVM
posted on Apr 04, 2010
About John
Contact John
Megapixel cameras foster hope for much higher quality surveillance video but how much more and in what conditions? In this report, we answer these questions in depth based on extensive testing.
The most aggressive marketing claims suggest a single megapixel camera is equals 95 CCTV cameras. Does that mean you could literally replace 95 CCTV cameras? If not 95, is it 25 or 16 or 4, etc.?
A 'Magic Number'
The megapixel vendors are now advocating a 'magic number' of 40 pixels per foot. They claim that if your Field of View provides 40 pixels per foot (e.g., a 1920 x 1080 camera covering a 48 foot wide FoV), then you can see facial details and license plates clearly.
Some vendors qualify their number by saying it is a 'minimum' but then fail to offer any further disclosure or explanation. This is as helpful as the government coming to your house and telling you owe a minimum of $1,000 in taxes.
Our Test
Over a 3 week period, we went out and tested these assumptions using a variety of cameras, resolutions and Field of Views. The video below overviews how we approached our tests: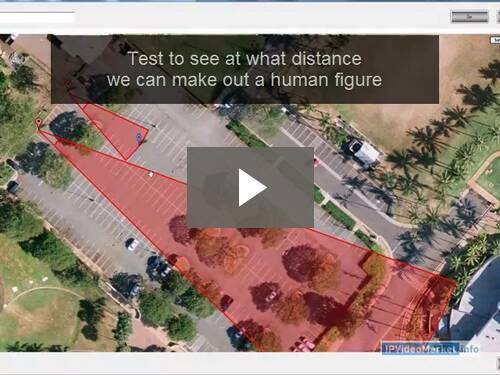 Our Findings
Our test results show that achieving high quality surveillance is much more complicated than the magic numbers nor multipliers being advocated today. While megapixel surveillance can significantly improve surveillance coverage, many issues and nuances exist that must be properly appreciated when designing and deploying systems. We examine these in depth in the PRO section.
The complete report is available only to PRO Members.
Most Recent Industry Reports
Gain / AGC for Video Surveillance Guide
on Apr 23, 2015
Gain control is a critical, though often overlooked, factor in low light surveillance video. It is generally only noticed when the negative side effective of aggressive gain levels are seen, namely...
Testing Honeywell HQA HD-CVI
on Apr 22, 2015
HD analog support continues to expand, with Honeywell now releasing its own HD-CVI offering, awkwardly named "High Quality Analog" (HQA), offering up to 1080p video via analog. The big appeal is g...
Testing Axis Zipstream
on Apr 13, 2015
Has Axis found its breakthrough differentiator? Can they demand a premium for this? Axis claims Zipstream can "lower bandwidth and storage requirements by an average 50% or more." We upgrade...
New Products Spring 2015
on Apr 12, 2015
After very poor new releases in 2014 (see Spring 2014 and Fall 2014 directories), 2015 is already much better. Here are new products being announced in 2015: Avigilon First to Demo 7K Cameras ...
FLIR FX Tested
on Apr 08, 2015
FLIR is going after the home / consumer surveillance market with their FLIR FX. A few of the notable competitive features offered: Video analytics for search (RapidRecap) Built-in Battery Buil...
IP Network Setup Guide for Surveillance
on Apr 06, 2015
In this guide, we teach the fundamentals of setting up an IP video surveillance network, taking factory default cameras through to a fully configured and ready to run network. We explain these topi...
Testing Messoa 3MP LPC Camera
on Apr 02, 2015
License plate recognition has historically required specialized cameras with limited general surveillance use. Messoa is aiming to change that with the LPR606, a higher resolution 3MP claiming sce...
Security Integrator Finder Released
on Apr 01, 2015
The new Security Integrator Finder's goal is to list every integrator in the world, overlaid on Google Maps. Here's how you benefit: Integrators can more easily be found by end users and manufa...
Milestone LPR Tested
on Mar 31, 2015
How well does Milestone's LPR work? Milestone's LPR supports off the shelf IP cameras, integrating license plate recognition with the Milestone Smart Client for live video, playback, and alar...
4K Panasonic Tested (Panoramic)
on Mar 25, 2015
Panasonic has released their first 4K cameras, and surprisingly, they are panoramic, which they tout include high sensitivity 1/2" image sensors, true WDR, auto back focus, and other feat...