PPF Test - Getting High Quality Surveillance Video
by John Honovich,
IPVM
posted on Apr 04, 2010
About John
Contact John
Megapixel cameras foster hope for much higher quality surveillance video but how much more and in what conditions? In this report, we answer these questions in depth based on extensive testing.
The most aggressive marketing claims suggest a single megapixel camera is equals 95 CCTV cameras. Does that mean you could literally replace 95 CCTV cameras? If not 95, is it 25 or 16 or 4, etc.?
A 'Magic Number'
The megapixel vendors are now advocating a 'magic number' of 40 pixels per foot. They claim that if your Field of View provides 40 pixels per foot (e.g., a 1920 x 1080 camera covering a 48 foot wide FoV), then you can see facial details and license plates clearly.
Some vendors qualify their number by saying it is a 'minimum' but then fail to offer any further disclosure or explanation. This is as helpful as the government coming to your house and telling you owe a minimum of $1,000 in taxes.
Our Test
Over a 3 week period, we went out and tested these assumptions using a variety of cameras, resolutions and Field of Views. The video below overviews how we approached our tests: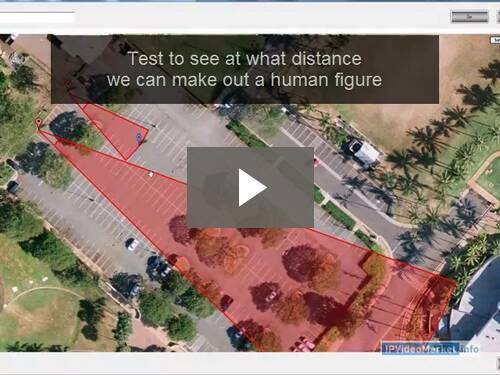 Our Findings
Our test results show that achieving high quality surveillance is much more complicated than the magic numbers nor multipliers being advocated today. While megapixel surveillance can significantly improve surveillance coverage, many issues and nuances exist that must be properly appreciated when designing and deploying systems. We examine these in depth in the PRO section.
The complete report is available only to PRO Members.
Comments
Only
PRO Members
can view and submit comments for this article.
Most Recent Industry Reports
Testing the Real Resolution of MP Cameras
on Dec 11, 2013
Resolution has become ridiculous. IP cameras equate resolution with pixels, ignoring that pixels are simply mechanical components of a camera, not the full performance of said camera. Indeed, it h...
Testing the Resolution of the Human Eye
on Dec 04, 2013
All sorts of wild guesses and theoretical calculations exist about what the resolution of the human eye is, with 576MP a common claim. No one we can find has ever actually tested it . . . until no...
Hikvision Cameras Tested
on Dec 02, 2013
Hikvision claims to be the #1 surveillance manufacturer in the world. That's, well, debatable. What's not in dispute is that they have become huge, fueled by the massive Chinese market, with ...
Testing New Dropcam Pro Camera
on Nov 25, 2013
VSaaS, overall, has been a disaster with nearly every provider, including gorilla Axis, struggling to make it big. The one clear exception has been Dropcam. It's end to end solution, targeted for ...
Bosch Flexidome Micro Shootout
on Nov 22, 2013
Minidomes are very popular, likely the most popular of all IP camera form factors, due to their relative low cost and small size. Earlier this year, we tested 3 Axis M30 minidomes. Now, we are test...
10MP vs 5MP vs HD Shootout
on Nov 20, 2013
HD cameras are commonplace. Everyone offers 1080p. The big question now is how much better is 5MP or 10MP? Is a 10MP camera 5 times better than 1080p as pixel count proponents claim? In this repor...
VMS Mobile Apps Guide
on Nov 19, 2013
Every VMS supplier has mobile app clients now, even if many are still not using them. However, significant differences can exist across VMS implementations. In this guide, we review 15 key feature...
Samsung Wisenet III Camera Shootout
on Nov 18, 2013
Samsung has never been a serious player in IP cameras, despite their success in other markets. Now, Samsung is pushing their Wisenet III release as their breakthrough offering. Is it really? We b...
Camera Selection Guide
on Nov 14, 2013
Entrances, hallways, rooms and parking lots are perhaps the 4 most common areas where surveillance is deployed. But what is the best type of camera for each? What resolution, form factors and FoV a...