PPF Test - Getting High Quality Surveillance Video
by John Honovich,
IPVM
posted on Apr 04, 2010
About John
Contact John
Megapixel cameras foster hope for much higher quality surveillance video but how much more and in what conditions? In this report, we answer these questions in depth based on extensive testing.
The most aggressive marketing claims suggest a single megapixel camera is equals 95 CCTV cameras. Does that mean you could literally replace 95 CCTV cameras? If not 95, is it 25 or 16 or 4, etc.?
A 'Magic Number'
The megapixel vendors are now advocating a 'magic number' of 40 pixels per foot. They claim that if your Field of View provides 40 pixels per foot (e.g., a 1920 x 1080 camera covering a 48 foot wide FoV), then you can see facial details and license plates clearly.
Some vendors qualify their number by saying it is a 'minimum' but then fail to offer any further disclosure or explanation. This is as helpful as the government coming to your house and telling you owe a minimum of $1,000 in taxes.
Our Test
Over a 3 week period, we went out and tested these assumptions using a variety of cameras, resolutions and Field of Views. The video below overviews how we approached our tests: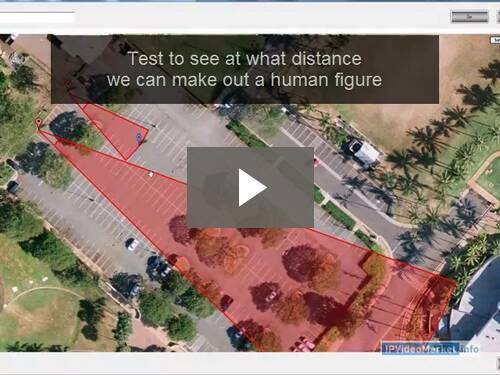 Our Findings
Our test results show that achieving high quality surveillance is much more complicated than the magic numbers nor multipliers being advocated today. While megapixel surveillance can significantly improve surveillance coverage, many issues and nuances exist that must be properly appreciated when designing and deploying systems. We examine these in depth in the PRO section.
The complete report is available only to PRO Members.
Most Recent Industry Reports
Lenel OnGuard Tested
on Sep 17, 2014
Lenel is one of the biggest names in Access Control with many thousands of systems installed around the globe.  In this report, we examine Lenel's OnGuard access management platform, look how...
Testing Axis High End HD Camera Q1615
on Sep 15, 2014
Axis core focus is the high end of the market. Their newest high end camera is the Q1615, aims to continue that, which they claim offers industry leading image quality and novel features, such as: ...
Testing Avigilon ACC 5 VMS
on Sep 10, 2014
In this report, we provide in-depth videos covering Avigilon Control Center 5's operation and configuration with 30+ minutes of screencasts providing clear explanations of ACC features including: ...
Testing March MegaPX Domes
on Sep 04, 2014
March Networks has been one of the bigger names in video surveillance recorders for a decade, with significant adoption especially in banking and retail. For a number of years, since the Cieffe&nb...
Milestone XProtect 2014 Tested
on Sep 03, 2014
In this third entry in our ongoing VMS test series we provide in-depth explanation and analysis of Milestone XProtect Enterprise 2014. Inside this report, we have 40+ minutes of video screenc...
The New Generation of Security Startups
on Sep 02, 2014
New entrants to the security market are few and far between. However, there is one area that is clearly driving new security startups - crowdfunding. Crowdfunding has grown from a curiosity ...
IP Camera Firmware Upgrade Directory
on Aug 28, 2014
Updating firmware can be one of the most tedious tasks involved in any IP camera system. It is not always clear what version is latest, what has changed or been fixed, and where to even download it...
Testing Hikvision High End Camera
on Aug 27, 2014
Chinese manufacturer, including the two mega ones, Dahua and Hikvision, are best known in the West for super low cost, entry level cameras. However, how well do their 'higher end' ones one work? ...
A Major Flaw in Long Lenses and PTZs Found
on Aug 26, 2014
Theoretically, long lenses should let you capture faces and license plates very far away. For example, over 900 feet away from a 1080p camera one should get over 40ppf from a 100mm lens. But how ...