PPF Test - Getting High Quality Surveillance Video
by John Honovich,
IPVM
posted on Apr 04, 2010
About John
Contact John
Megapixel cameras foster hope for much higher quality surveillance video but how much more and in what conditions? In this report, we answer these questions in depth based on extensive testing.
The most aggressive marketing claims suggest a single megapixel camera is equals 95 CCTV cameras. Does that mean you could literally replace 95 CCTV cameras? If not 95, is it 25 or 16 or 4, etc.?
A 'Magic Number'
The megapixel vendors are now advocating a 'magic number' of 40 pixels per foot. They claim that if your Field of View provides 40 pixels per foot (e.g., a 1920 x 1080 camera covering a 48 foot wide FoV), then you can see facial details and license plates clearly.
Some vendors qualify their number by saying it is a 'minimum' but then fail to offer any further disclosure or explanation. This is as helpful as the government coming to your house and telling you owe a minimum of $1,000 in taxes.
Our Test
Over a 3 week period, we went out and tested these assumptions using a variety of cameras, resolutions and Field of Views. The video below overviews how we approached our tests: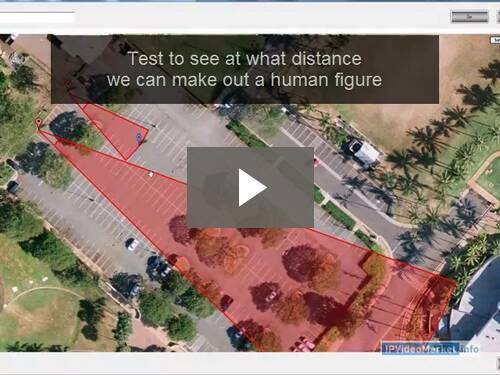 Our Findings
Our test results show that achieving high quality surveillance is much more complicated than the magic numbers nor multipliers being advocated today. While megapixel surveillance can significantly improve surveillance coverage, many issues and nuances exist that must be properly appreciated when designing and deploying systems. We examine these in depth in the PRO section.
The complete report is available only to PRO Members.
Most Recent Industry Reports
ioimage HD Analytic Camera Tested
on Jan 29, 2015
Four years after acquiring ioimage, DVTel has released new HD analytic cameras, with the promise of higher probability of detection and lower false alarm rates.   Now, the question ...
Testing Integrated IR Cameras In Snow
on Jan 28, 2015
'Snowmaggedon 2015' gave us an oppportunity to test cameras in heavy snow conditions. Integrated IR has gained in popularity, improving low light images even in low cost cameras. However,&nbs...
2015 Video Surveillance Guide
on Jan 27, 2015
The 250+ page, 2015 Video Surveillance Industry Guide, covering the key events and the future of the video surveillance market, is now available. Table of Contents How To Get It There are 3 ...
How to Hack an ADT Alarm System
on Jan 26, 2015
This report explains the key steps in hacking an alarm system, like ADT, as was presented in a Defcon 22 presentation. The risk of such a hack has become major news as a class action lawsuit was f...
Simplicam Facial Recognition Tested
on Jan 23, 2015
Facial recognition, available for $150? That's the offer from a startup, Simplicam, who has not only cloned Dropcam setup and user interface but has added in facial detection and recognition....
Bosch 4K Tested
on Jan 21, 2015
4K promises more pixels but does it undermine WDR and low light performance? We tested the Axis 4K camera and there were certainly issues. Now, we tested the Bosch 4K camera, the Dinion IP Ultra ...
Largest New Video Surveillance Projects
on Jan 19, 2015
140 video surveillance professionals, including integrators and manufacturers, shared the largest video surveillance projects that they have seen in the past year. Key Patterns The survey results...
IP Networking for Video Surveillance Course
on Jan 18, 2015
This is the first networking course designed specifically for video surveillance professionals. IPVM is launching an IP Networking for Video Surveillance Course, starting March 10th. Lots of netw...
Bosch Buys $190 Million Integrator
on Jan 16, 2015
The big deals continue. This time, Bosch has bought a US integrator, Climatec, that did ~$190 million in 2014 revenue.
Testing $50 Mini NVR
on Jan 14, 2015
As an NVR, this performed very really badly. But, as a member suggested to us, could a $50 mini NVR be used as an IP / HD spot monitor? Adding a spot monitor or public view display in an IP sur...