PPF Test - Getting High Quality Surveillance Video
by John Honovich,
IPVM
posted on Apr 04, 2010
About John
Contact John
Megapixel cameras foster hope for much higher quality surveillance video but how much more and in what conditions? In this report, we answer these questions in depth based on extensive testing.
The most aggressive marketing claims suggest a single megapixel camera is equals 95 CCTV cameras. Does that mean you could literally replace 95 CCTV cameras? If not 95, is it 25 or 16 or 4, etc.?
A 'Magic Number'
The megapixel vendors are now advocating a 'magic number' of 40 pixels per foot. They claim that if your Field of View provides 40 pixels per foot (e.g., a 1920 x 1080 camera covering a 48 foot wide FoV), then you can see facial details and license plates clearly.
Some vendors qualify their number by saying it is a 'minimum' but then fail to offer any further disclosure or explanation. This is as helpful as the government coming to your house and telling you owe a minimum of $1,000 in taxes.
Our Test
Over a 3 week period, we went out and tested these assumptions using a variety of cameras, resolutions and Field of Views. The video below overviews how we approached our tests: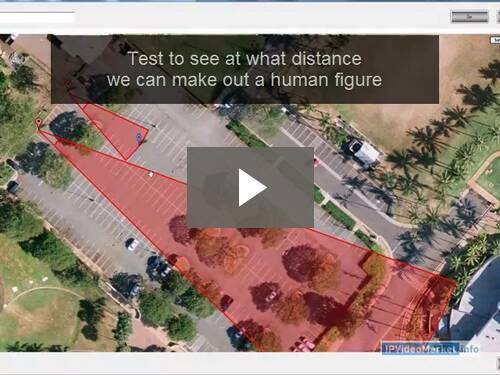 Our Findings
Our test results show that achieving high quality surveillance is much more complicated than the magic numbers nor multipliers being advocated today. While megapixel surveillance can significantly improve surveillance coverage, many issues and nuances exist that must be properly appreciated when designing and deploying systems. We examine these in depth in the PRO section.
The complete report is available only to PRO Members.
Comments
Only
PRO Members
can view and submit comments for this article.
Most Recent Industry Reports
IP Camera Bandwidth / Storage Shootout
on Mar 05, 2014
Bandwidth consumption can vary tremendously, even with the same resolution, frame rate, compression and scene, by 50% to 80% in our tests. This is because cameras process video differently (e.g., g...
Market Guide 2014: Video Analytics
on Mar 03, 2014
For more than a decade, video analytics has been the great hope for the surveillance industry. Indeed, it remains the pick as the Next Big Thing. Yet the past 2 years has been rough, with ObjectVi...
Testing Geovision MP License Plate Camera
on Feb 28, 2014
Capturing license plates is one of the most requested, and underserved areas, in IP cameras. The question comes up a lot, and there are not many purpose built options. One of the few IP / MP Licen...
Book Released: 2014 Access Control Training
on Feb 26, 2014
Just like we did an IP camera book, we are now doing one for access control. This is the best, most comprehensive access control training in the world, based on our unprecedented research. No...
Testing Honeywell HD WDR IP Camera
on Feb 25, 2014
Honeywell is a huge name, but not one well respected in video surveillance, unless you are an alarm dealer. The company was late into IP but now offers their own IP camera line, including their hi...
Worst VMS Manufacturers 2014
on Feb 24, 2014
With the favorite VMSes revealed, we now turn to the worst. We asked 120+ integrators from more than 20 countries: "In the past year, what VMS / NVR system have you had the worst experience wit...
IP Camera Manufacturer Compression Comparison
on Feb 21, 2014
Compression is very important. While resolution gets the attention, compression is critical and can be a silent killer - both for quality and bandwidth. Regardless of resolution, all surveillance ...
Camera Test: PPF Needed For IDs, Text, Money
on Feb 19, 2014
Need to see the fine print of a dollar bill, euro, driver's license or text on a document? We tested 3 different types of print. Currency, both the US dollar and the Euro: Identification card,...
Favorite VMS Manufacturers 2014
on Feb 17, 2014
With the favorite and worst IP camera manufacturers identified, we now turn to the VMS manufacturers. 120 integrators from 20 countries answered the following open ended question: 23 manufact...
Cut Storage Cost by 50%? Arecont BSM Test
on Feb 14, 2014
How would like to reduce your storage costs by up to 50% with just a click of a button? That's the promise of Arecont's 'Bandwidth Savings Mode', a new option that slashes bit rate up to half 'with...