PPF Test - Getting High Quality Surveillance Video
by John Honovich,
IPVM
posted on Apr 04, 2010
About John
Contact John
Megapixel cameras foster hope for much higher quality surveillance video but how much more and in what conditions? In this report, we answer these questions in depth based on extensive testing.
The most aggressive marketing claims suggest a single megapixel camera is equals 95 CCTV cameras. Does that mean you could literally replace 95 CCTV cameras? If not 95, is it 25 or 16 or 4, etc.?
A 'Magic Number'
The megapixel vendors are now advocating a 'magic number' of 40 pixels per foot. They claim that if your Field of View provides 40 pixels per foot (e.g., a 1920 x 1080 camera covering a 48 foot wide FoV), then you can see facial details and license plates clearly.
Some vendors qualify their number by saying it is a 'minimum' but then fail to offer any further disclosure or explanation. This is as helpful as the government coming to your house and telling you owe a minimum of $1,000 in taxes.
Our Test
Over a 3 week period, we went out and tested these assumptions using a variety of cameras, resolutions and Field of Views. The video below overviews how we approached our tests: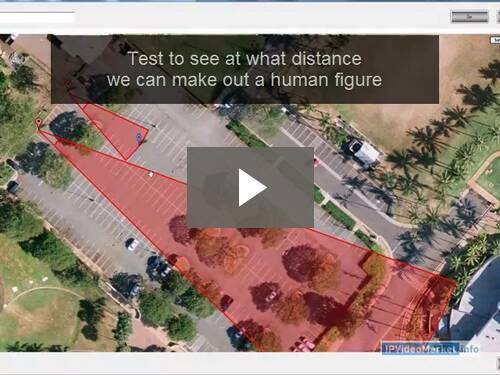 Our Findings
Our test results show that achieving high quality surveillance is much more complicated than the magic numbers nor multipliers being advocated today. While megapixel surveillance can significantly improve surveillance coverage, many issues and nuances exist that must be properly appreciated when designing and deploying systems. We examine these in depth in the PRO section.
The complete report is available only to PRO Members.
Most Recent Industry Reports
Dahua vs Bosch and Axis 4K Cameras
on Mar 02, 2015
4K is here, but not without issues. High prices and poor low light performance constrain adoption. Now Dahua, one of the two Chinese mega-manufacturers, known for its incredibly low-cost HDCVI li...
Super Low Cost Chinese Camera Shootout
on Feb 25, 2015
The 'Chinese' are the industry's #1 threat (or opportunity depending on one's perspective). IPVM has extensively covered the rise of Dahua and Hivkision (see test results). But those tw...
Warning: Case Studies Can Get You Sued
on Feb 24, 2015
What do 24 Hour Fitness, Barnes and Nobles and multiple hospitals have in common? They have all been sued in the past few months, with their manufacturer case studies used as evidence.  They...
Genetec AutoVu LPR Camera Tested
on Feb 23, 2015
License plate video is one of the most requested elements of video surveillance. IPVM has done many tests on license plate cameras, including the: License Plate Capture Shootout Low Cost Licen...
Shootout: 4K vs PTZ Cameras
on Feb 19, 2015
Resolutions continue upwards, with 4K cameras hitting the street. Meanwhile, PTZ usage continues its downward trend, with fewer and fewer integrators choosing them. The question is: how does this ...
Testing FLIR IR PTZ
on Feb 17, 2015
FLIR's integrated IR PTZ, the DNZ30TL2R claims a whopping 150m (~500') IR range and HD resolution. Distances like these have historically been possible only with expensive high-end positioning syst...
Canon to Buy Axis, Will Own Axis and Milestone
on Feb 10, 2015
This is the biggest deal in video surveillance ever. Just 8 months after buying Milestone, Canon is set to buy Axis. Canon has offered $2.8 billion USD for Axis, a ~50% premium over Axis stock pr...
BestMatch Camera Software Released
on Feb 09, 2015
Our new camera comparison algorithm, BestMatch, enables you to find the best camera for your needs at up to 70% lower price. Watch this quick 2 minute video that shows how you will benefit from th...
Hikvision HDTVI Long Distance Problem Tested
on Feb 05, 2015
Hikvision's HDTVI cameras performed poorly over low quality or long coax and UTP cables in our original tests. This was a major issue as a key selling point of analog HD technol...
Network Monitoring / SNMP for Video Surveillance Guide
on Feb 02, 2015
Surveillance systems typically rely on the the VMS to report issues, but this most often just means knowing a camera is "down" with no warning or detailed information. Network monitoring syst...