PPF Test - Getting High Quality Surveillance Video
by John Honovich,
IPVM
posted on Apr 04, 2010
About John
Contact John
Megapixel cameras foster hope for much higher quality surveillance video but how much more and in what conditions? In this report, we answer these questions in depth based on extensive testing.
The most aggressive marketing claims suggest a single megapixel camera is equals 95 CCTV cameras. Does that mean you could literally replace 95 CCTV cameras? If not 95, is it 25 or 16 or 4, etc.?
A 'Magic Number'
The megapixel vendors are now advocating a 'magic number' of 40 pixels per foot. They claim that if your Field of View provides 40 pixels per foot (e.g., a 1920 x 1080 camera covering a 48 foot wide FoV), then you can see facial details and license plates clearly.
Some vendors qualify their number by saying it is a 'minimum' but then fail to offer any further disclosure or explanation. This is as helpful as the government coming to your house and telling you owe a minimum of $1,000 in taxes.
Our Test
Over a 3 week period, we went out and tested these assumptions using a variety of cameras, resolutions and Field of Views. The video below overviews how we approached our tests: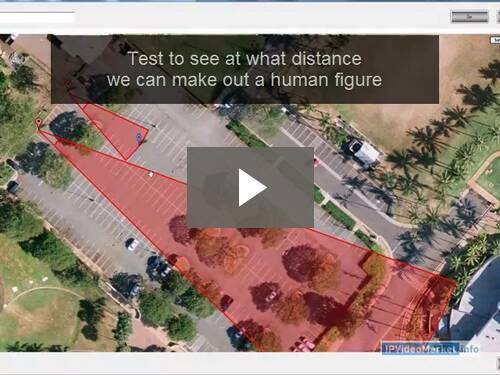 Our Findings
Our test results show that achieving high quality surveillance is much more complicated than the magic numbers nor multipliers being advocated today. While megapixel surveillance can significantly improve surveillance coverage, many issues and nuances exist that must be properly appreciated when designing and deploying systems. We examine these in depth in the PRO section.
The complete report is available only to PRO Members.
Most Recent Industry Reports
Airport Video Surveillance Guide
on Jun 30, 2015
This 20-page guide explains the key uses, design factors, and players in the Airport Surveillance market. A global group of 40 integrators and consultants with airport project experience respond...
New Google Nest Cam Tested
on Jun 29, 2015
The most important advance for the new Google Nest Cam is video analytics. Though this has not been the focus in the mainstream press, IPVM testing shows that their video analytic advances are sig...
Super Low Light HD Lens Tested
on Jun 26, 2015
A smaller F-number can make a big difference in how much light reaches an imager. For example, the difference even between a f/1.2 and f/1.0, which may seem very close, can be significant, as show...
China and Taiwan Manufacturer Financials
on Jun 24, 2015
China is the #1 threat to video surveillance providers around the world but how well are Chinese and Taiwan surveillance manufacturers actually doing? This report breaks down the financial perform...
iControl Piper Camera Test
on Jun 24, 2015
iControl has raised over $100 million in VC funding to transform the home security market.  Last year, they acquired Piper, a camera / home automation startup. iControl now faces off against...
Avigilon Access Control Tested
on Jun 22, 2015
Avigilon aims to deliver an end-to-end solution of video surveillance and access control. But how good is their access control? In 2013, Avigilon bought RedCloud for $17 million. However, RedCloud...
The $500 FLIR Thermal Camera Tested
on Jun 19, 2015
$5,000 thermal cameras were super 'cheap' not too long ago. Then $2,000 thermal cameras shocked people in 2012. Now, we have thermals cameras under $500, coming from the biggest name in the therm...
The $40 Million Funded Startup Canary Tested
on Jun 17, 2015
This startup, Canary, has raised $40 million total since 2014. With Google buying Dropcam for $555 million, investors see big opportunity in security / video startups. Canary now has a sizeable w...
Favorite SMB Video Surveillance Manufacturers
on Jun 15, 2015
Most video surveillance manufacturers are fighting to expand their sales to the small to medium size business market. With the high-end saturated from early IP camera adopters, premium brands like...
Online Surveillance Sales Trends 2015
on Jun 11, 2015
IPVM has uncovered the key trends and top options being offered across some of the most well known and commonly used online retailers. Is SD analog still king? Has IP 'won'? Is HD Analog making he...