IP Video 101 Training
by John Honovich,
IPVM
posted on May 06, 2015
About John
Contact John
This free, online training allows you to learn the basics of IP video in under 2 hours by watching a series of 6 videos and take a 14 question quiz.
It is for security technicians and security managers that want to use IP cameras but want to improve their skills with IP networks.
The videos go through each of the practical steps and key challenges you might face trying to get an IP camera online.
If you like this and want more, take the IPVM IP Networking Course and Get Certified.
PART 1 - BASICS
Getting started with IP cameras can be daunting for those without experience in computer networks. Fortunately, it is not that hard. In this part, we train networking novices on how get started using IP cameras, featuring a 9 minute video screencast and a series of screenshots showing the key elements.
Here is the full video walking you through the entire process: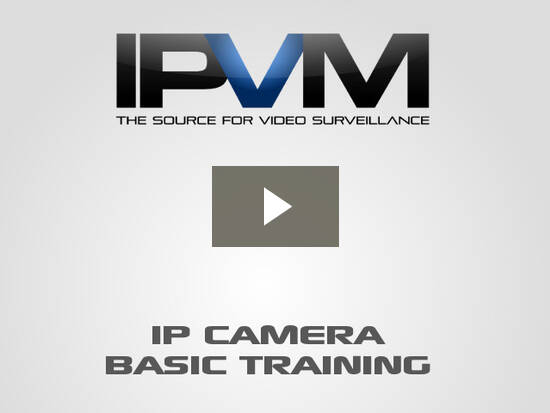 Now we will review key areas covered inside the video.
Discovering IP Cameras
Discovering the IP address of your IP camera is the first step. To do so, use the IP camera manufacturer's discovery / finder tool. Examples include ACTi Utility Suite, Axis Camera Management, IQFinder, Pelco Device Utility, etc. You can also try using tools built into VMS systems but the manufacturer's own tool often works best.
Pinging IP Cameras
Once you discover the IP address of the camera (e.g. 192.168.2.144), you can then try to ping it from your PC. Pinging tests whether one computer (e.g., your PC) can reach another computer (e.g., your IP camera).
Below is an example of where pinging fails. This often happens when you first try to connect:
Being on the Same Network
The IP camera and the PC need to be on the same network. Typically, this means that the first 3 segments (called octets) need to be the same.
Good: IP Camera address is 192.168.2.4 and PC address is 192.168.2.10 - The first three are the same (192.168.2) so they should be on the same network
Bad: IP camera address is 192.168.2.4 and PC address is 192.168.1.10 - The first three are NOT the same so they are likely not on the same network.
Exceptions do exist in advanced configurations but this rule of thumb (first three being the same) will work in most situations.
Checking Network Configuration
Often the IP address of the camera and your PC are different. To find out your PC's IP address, you use a command called, ipconfig, showed below:
Changing IP Addresses
To connect to an IP camera and do initial setup you might need to change your IP address to be on the same network as the camera. Here's the Windows interface to do so:
Verifying Connections
Once the IP camera and your PC are on the same network, you can ping again to verify that you can reach the IP camera. Here's what it looks like when pinging is successful:
Once you can ping the IP camera, you can then connect to it via a web interface (using the camera's IP address) or add it into a VMS.
PART 2 - Setting Up Your PC
Over and over, The most common and fundamental problem techs have getting started with IP cameras is setting up their PC.
Here's a recent example shared by a manufacturer:
"We just went through a series of IP training courses with a major distributor (we met with 100 dealers in our trainings) and 90% of dealers had no idea how to change their laptops from DHCP to fixed IP to be able to connect an IP camera."
The video below teaches new techs how to successfully handle this, setting up their PC and connecting to an IP camera: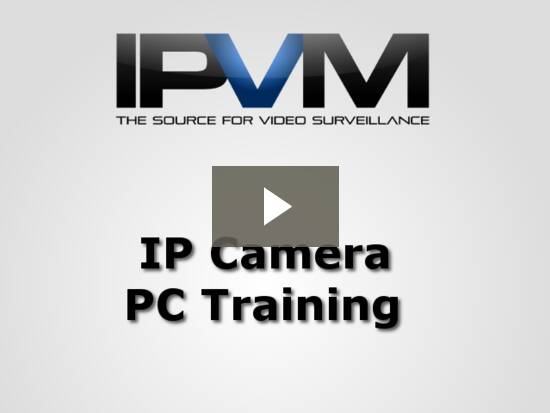 PART 3 - IP Camera Setup
Once you have your PC setup and connect to an IP camera, you need to set it up so that the camera can integrate with a VMS or NVR. In this part, we show you how to do it and what issues to avoid.
The most fundamental step in setting up IP cameras is assigning an IP address to the camera. In the video below, we explain:
Choosing between dynamic and static IP addresses
How to get the right IP address
When and why to use DNS information
Watch the 6 minute video to see this in action: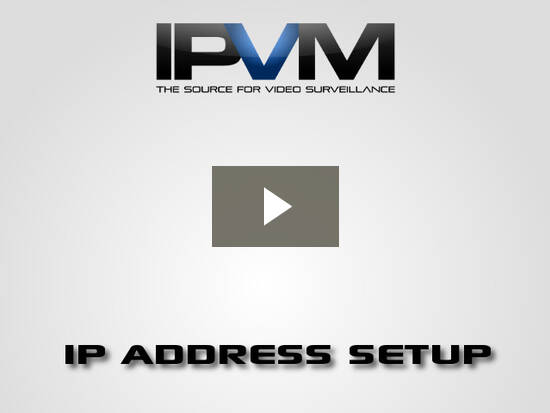 The next step is to verify that the correct firmware / software is loaded on both the IP camera and VMS side. This is very easy to overlook and is one of the most common problems in using IP video surveillance. While it is not particularly hard to resolve, often users are just not aware of these element.
Watch the 4 minute video below for an explanation on the importance and impact of firmware: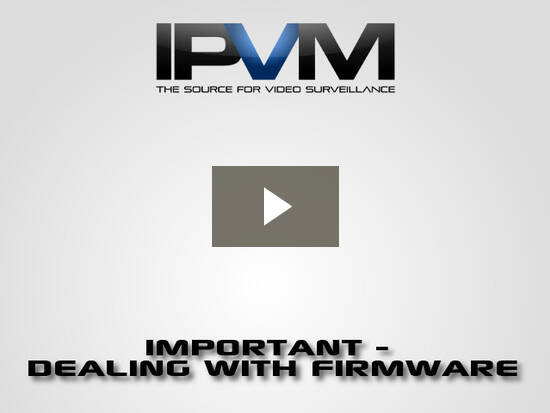 PART 4 - Bandwidth Basics
Finally, understanding bandwidth is critical to using IP cameras. In this new part, we show how to measure bandwidth and how significantly bandwidth can change in different scenes and with different settings: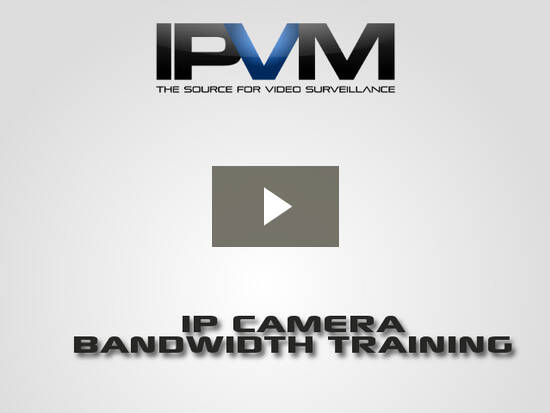 For more on bandwidth, we have extensive advanced training and test reports, including:
One of the most painful and common problems in dealing with bandwidth is misunderstanding the difference between bits and bytes. The video below explains the differences and how it impacts using IP cameras: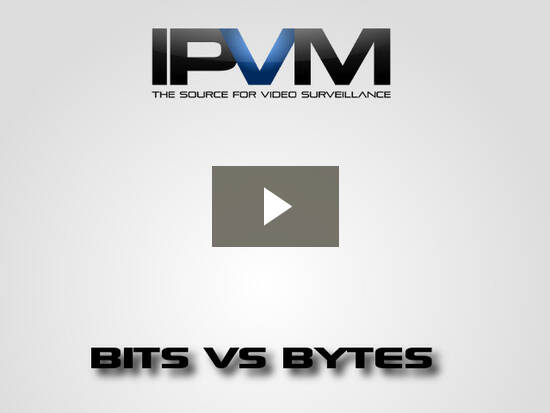 QUIZ YOURSELF NOW
How much do you know about IP Video 101?
What's Next
By now, you should have enough knowledge to try connecting to your own IP camera. If you do not have one, you can buy one online for less than $100. Just make sure you buy an IP/network camera and NOT a USB camera. While USB cameras are fine for personal use, they do not scale well in surveillance systems.
With your own camera, try connecting to it, changing the camera's IP address, connecting it to a VMS system, etc. Go ahead and measure the bandwidth of the camera, try changing some video settings on the camera (frame rate, resolution, CODEC) and see what happens.
Once you get these fundamentals down, it should get easier and easier to expand your knowledge.
If you have questions or hit problems, let us know in the comments and we will provide advice and feedback to help you overcome them.
Want More - Get Certified?
If you like this and want more, take the IPVM IP Networking Course and Get Certified.
Comments (2)
It is a quite good collection of videos for beginners. And very interesting Quiz.
The only thing I would recommend to changing is to increase the time interval given for the Quiz completion.
Most Recent Industry Reports
The 4MP Shootout - Dahua vs Hikvision
on Sep 30, 2015
4MP cameras are an important emerging trend in video surveillance, aiming to replace 1080p. This is being driven by new sensors from OmniVision that deliver almost twice the pixel count of 1080p a...
33 New Products Directory - Fall 2015
on Sep 28, 2015
 New products or major tech isssues that IPVM has reported on this summer / fall: Axis Releases Their Own Video Analytics Axis Non-IP Camera / DVR Kit Is Here BluB0X - The Most ...
Axis YouTube Livestreaming Camera App Tested
on Sep 25, 2015
Broadcasting live video has historically been complex and costly, with manual setup and pricey monthly subscriptions required. Now, Camstreamer is aiming to change that, with an Axis Camera A...
Anixter/Tri-Ed Northern Video Tested
on Sep 18, 2015
ADI is an IP video manufacturer now (see IPVM's ADI W Box test results). And now, their top rival, Anixter's Tri-Ed arm has also entered the IP video manufacturering business, under the North...
Axis Digital Autotracking Tested
on Sep 16, 2015
As camera resolutions continues to climb, the likelihood that you will ever display any camera at full resolution on a monitor declines. This is even more improbable for the normal configuration of...
Access Control Book 2015
on Sep 16, 2015
This book is the textbook for our Access Control Course, today is the last day to get in the course. This is the best, most comprehensive access control training in the world, based on o...
Hikvision iVMS-4200 Tested
on Sep 14, 2015
Though best known for their camera and recorders, mega Chinese manufacturer also makes their own VMS software. In this report, we share test results of Hikvision's iVMS-4200, their VMS that works ...
Google Breaks Surveillance Browser Support
on Sep 09, 2015
Now you have a choice. Broken video surveillance web browser support or an insecure, prone to crashing interface. As Google has been warning for ~2 years, Chrome has now discontinued NPAPI suppor...
The $28 Million Video Doorbell Ring Tested
on Sep 08, 2015
In 2015, video doorbells are big business. Ring landed $28 million in funding from Richard Branson and others who are betting that this is the next big thing. However, when Ring's first generation...
5 Low Cost IR Illuminators Tested
on Sep 03, 2015
IR illumination has increased in popularity, with built in IR becoming a common feature in low-cost models. But when low light needs exceed the relatively short ranges of these cameras (usually 100...