H.264 vs MJPEG - Quality and Bandwidth Tested
by John Honovich,
IPVM
posted on Jul 28, 2010
About John
Contact John
Encoding video optimally is critical for IP video surveillance systems. Should you choose H.264 or MJPEG? While industry momentum certainly favors H.264, when and how to best use H.264 are important questions.
We believe the 3 key questions in considering H.264 vs MJPEG are:
How much bandwidth savings does H.264 provide over MJPEG?
What type of image quality differences can you expect between H.264 and MJPEG?
What differences in computing load will you experience between H.264 and MJPEG?
This report provides our results and recommendations on the first two questions - bandwidth and image quality.From our tests, we recommend the following 3 key criteria to understand H.26/MJPEG's impact on quality and bandwidth:
Determine the complexity of the scene being captured/recorded
Determine the streaming mode / control of the camera being used
Determine the ratio of total frames to I frames (for H.264)
The tests reveal no magic numbers - the answer is not 80% bandwidth savings or 10% less quality (or any other single value for X or Y). While H.264 generally reduces bandwidth consumption significantly, it depends on multiple factors (including complexity, streaming mode, frame rate and i frame rate). VBR vs CBR selection is especially important, having a especially large impact on use and performance. Finally, while H.264 can deliver the same visible image quality as MJPEG, depending on the settings you use (especially streaming mode), you can easily generate worse quality.
Inside our premium report, we examine and explain each of these elements in-depth with a series of sample videos and tutorial video screencasts. The video introduction below overviews the approach we took: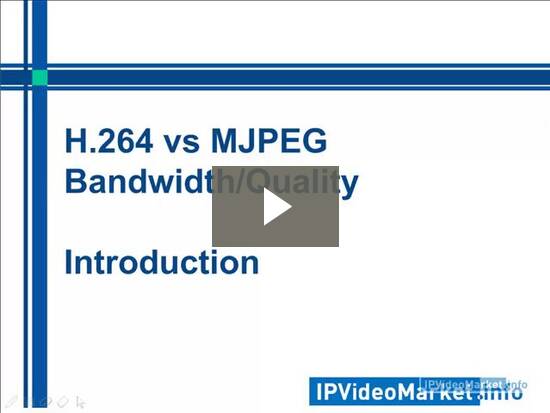 Premium members should allocate 1-3 hours to read the full report
The complete report is available only to PRO Members.
Most Recent Industry Reports
Axis 4K Tested
on Oct 29, 2014
Two years ago, Axis declared the megapixel race over. Now, they are among the first to release a 4K (8.3MP) camera. However, the question is simply: do we really need more pixels? We bought an Ax...
Top Manufacturers Gaining and Losing Ground
on Oct 27, 2014
IPVM survey results of 100 integrators show what manufacturers are gaining and losing ground in 2014. Integrators answered 2 questions: "Added: This year, in 2014, what new product lines have you...
Getting Started With Your IPVM Membership
on Oct 24, 2014
Here's how to get started and get the most out of your IPVM membership. Getting Started Video Presentation You can watch the 20 minute video immediately below or scan through the whole post for i...
Testing Arecont Omni
on Oct 20, 2014
The Arecont SurroundVideo Omni is one of the most novel new camera offerings in the past few years. Like their 180 and 360 predecessors, the Omni supports 4 imagers / cameras inside. The major adv...
The Worst HD Quality Camera Ever (Samsung 1280H)
on Oct 15, 2014
Samsung, what are you doing? Their new 1280H offering significantly stretches video and is one of the most bizarre offerings we have ever seen. Earlier this year, Samsung trumpeted that 1280H wou...
Winners Losers Fall 2014
on Oct 13, 2014
We are all losers, IPVM included. The historically poor new releases for Essen / ASIS make 2014 the worst year for surveillance innovation in, at least, a decade. (See our in depth manufacturer re...
Smart IR Panoramic Camera Tested
on Oct 10, 2014
Panoramic cameras are overwhelmingly quite bad in low light. Now, manufacturers are starting to add IR to them. We tested the Hikvision panoramic IR earlier this year. Now, Vivotek has released t...
Testing Speco IP Intensifier
on Oct 06, 2014
Chances are you have seen Speco's promotion of its Intensifier HD IP line, with ads online and in trade mags claiming color images down to an incredible 0.0005 lx. Speco funded a vacation f...
Testing IP Camera Latency
on Sep 26, 2014
How much does latency impact IP cameras? We tested a number of combinations, like so: In this report, we break down: Average latency metrics in our test Key drivers of latency Variations i...