H.264 vs MJPEG - Quality and Bandwidth Tested
by John Honovich,
IPVM
posted on Jul 28, 2010
About John
Contact John
Encoding video optimally is critical for IP video surveillance systems. Should you choose H.264 or MJPEG? While industry momentum certainly favors H.264, when and how to best use H.264 are important questions.
We believe the 3 key questions in considering H.264 vs MJPEG are:
How much bandwidth savings does H.264 provide over MJPEG?
What type of image quality differences can you expect between H.264 and MJPEG?
What differences in computing load will you experience between H.264 and MJPEG?
This report provides our results and recommendations on the first two questions - bandwidth and image quality.From our tests, we recommend the following 3 key criteria to understand H.26/MJPEG's impact on quality and bandwidth:
Determine the complexity of the scene being captured/recorded
Determine the streaming mode / control of the camera being used
Determine the ratio of total frames to I frames (for H.264)
The tests reveal no magic numbers - the answer is not 80% bandwidth savings or 10% less quality (or any other single value for X or Y). While H.264 generally reduces bandwidth consumption significantly, it depends on multiple factors (including complexity, streaming mode, frame rate and i frame rate). VBR vs CBR selection is especially important, having a especially large impact on use and performance. Finally, while H.264 can deliver the same visible image quality as MJPEG, depending on the settings you use (especially streaming mode), you can easily generate worse quality.
Inside our premium report, we examine and explain each of these elements in-depth with a series of sample videos and tutorial video screencasts. The video introduction below overviews the approach we took: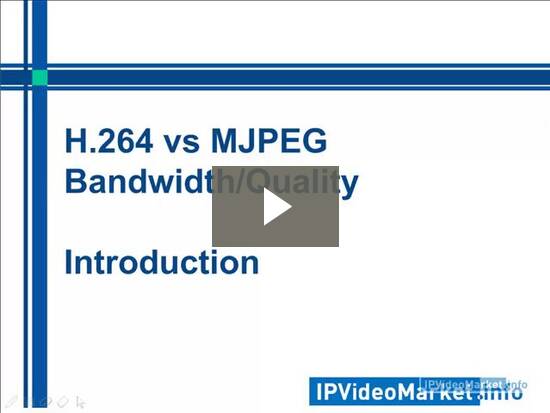 Premium members should allocate 1-3 hours to read the full report
The complete report is available only to PRO Members.
Most Recent Industry Reports
Airport Video Surveillance Guide
on Jun 30, 2015
This 20-page guide explains the key uses, design factors, and players in the Airport Surveillance market. A global group of 40 integrators and consultants with airport project experience respond...
New Google Nest Cam Tested
on Jun 29, 2015
The most important advance for the new Google Nest Cam is video analytics. Though this has not been the focus in the mainstream press, IPVM testing shows that their video analytic advances are sig...
Super Low Light HD Lens Tested
on Jun 26, 2015
A smaller F-number can make a big difference in how much light reaches an imager. For example, the difference even between a f/1.2 and f/1.0, which may seem very close, can be significant, as show...
China and Taiwan Manufacturer Financials
on Jun 24, 2015
China is the #1 threat to video surveillance providers around the world but how well are Chinese and Taiwan surveillance manufacturers actually doing? This report breaks down the financial perform...
iControl Piper Camera Test
on Jun 24, 2015
iControl has raised over $100 million in VC funding to transform the home security market.  Last year, they acquired Piper, a camera / home automation startup. iControl now faces off against...
Avigilon Access Control Tested
on Jun 22, 2015
Avigilon aims to deliver an end-to-end solution of video surveillance and access control. But how good is their access control? In 2013, Avigilon bought RedCloud for $17 million. However, RedCloud...
The $500 FLIR Thermal Camera Tested
on Jun 19, 2015
$5,000 thermal cameras were super 'cheap' not too long ago. Then $2,000 thermal cameras shocked people in 2012. Now, we have thermals cameras under $500, coming from the biggest name in the therm...
The $40 Million Funded Startup Canary Tested
on Jun 17, 2015
This startup, Canary, has raised $40 million total since 2014. With Google buying Dropcam for $555 million, investors see big opportunity in security / video startups. Canary now has a sizeable w...
Favorite SMB Video Surveillance Manufacturers
on Jun 15, 2015
Most video surveillance manufacturers are fighting to expand their sales to the small to medium size business market. With the high-end saturated from early IP camera adopters, premium brands like...
Online Surveillance Sales Trends 2015
on Jun 11, 2015
IPVM has uncovered the key trends and top options being offered across some of the most well known and commonly used online retailers. Is SD analog still king? Has IP 'won'? Is HD Analog making he...