H.264 vs MJPEG - Quality and Bandwidth Tested
by John Honovich,
IPVM
posted on Jul 28, 2010
About John
Contact John
Encoding video optimally is critical for IP video surveillance systems. Should you choose H.264 or MJPEG? While industry momentum certainly favors H.264, when and how to best use H.264 are important questions.
We believe the 3 key questions in considering H.264 vs MJPEG are:
How much bandwidth savings does H.264 provide over MJPEG?
What type of image quality differences can you expect between H.264 and MJPEG?
What differences in computing load will you experience between H.264 and MJPEG?
This report provides our results and recommendations on the first two questions - bandwidth and image quality.From our tests, we recommend the following 3 key criteria to understand H.26/MJPEG's impact on quality and bandwidth:
Determine the complexity of the scene being captured/recorded
Determine the streaming mode / control of the camera being used
Determine the ratio of total frames to I frames (for H.264)
The tests reveal no magic numbers - the answer is not 80% bandwidth savings or 10% less quality (or any other single value for X or Y). While H.264 generally reduces bandwidth consumption significantly, it depends on multiple factors (including complexity, streaming mode, frame rate and i frame rate). VBR vs CBR selection is especially important, having a especially large impact on use and performance. Finally, while H.264 can deliver the same visible image quality as MJPEG, depending on the settings you use (especially streaming mode), you can easily generate worse quality.
Inside our premium report, we examine and explain each of these elements in-depth with a series of sample videos and tutorial video screencasts. The video introduction below overviews the approach we took: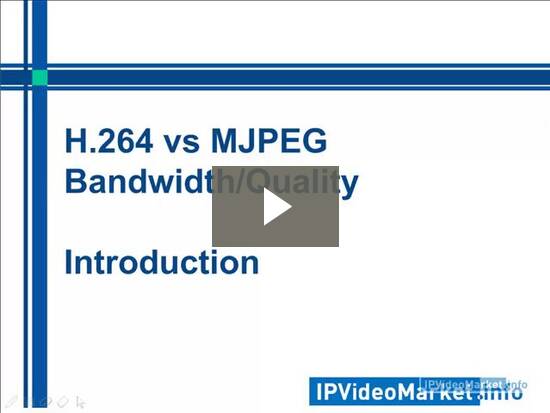 Premium members should allocate 1-3 hours to read the full report
The complete report is available only to PRO Members.
Most Recent Industry Reports
Camera DNR (Digital Noise Reduction) Guide
on Nov 20, 2014
A significant video problem is night time bandwidth spikes. An IPVM study found 250 - 500% increase in bandwidth from day to night (see: Testing Bandwidth vs Low Light). Digital noise r...
Camera Labor Estimation Standard
on Nov 19, 2014
IPVM is proud to release the first ever surveillance camera labor estimation standards. These standards help integrators improve the accuracy and efficiency of their installations, reducing risks ...
Dahua HDCVI 2.0 Tested
on Nov 17, 2014
A strong initial reception but can it repeat? Dahua's initial HDCVI analog HD offering, with its super low cost and HD resolution, was extremely well received (see IPVM's HDCVI test results)....
Avigilon Analytic Cameras Tested
on Nov 12, 2014
Analytics remains the 'next big thing' But supply of high quality, ease to use analytics remain in short supply. VideoIQ had been the favorite choice of integrators surveyed. But VideoIQ was acqu...
Best & Worst Manufacturer Salespeople
on Nov 10, 2014
What manufacturers were rated the worst? Which the best? What do integrators want from their manufacturer salespeople? What offends them the most? New IPVM survey results of 100+ integrators an...
Testing Bandwidth vs Low Light
on Nov 07, 2014
Bandwidth and low light can be a bad combination. Despite many assuming / calculating bandwidth as a single 24/7 number, bandwidth can vary dramatically. One of the big drivers of bandwidth chang...
Hikvision Tribrid Recorder Tested
on Nov 05, 2014
HD over existing coax, IP and legacy analog cameras, all in a single recorder. A 16 camera 'tribrid' DVR that does all that for less than $400. This is what Hikvision is claiming with its 7200 se...
Camera Finder Released
on Nov 03, 2014
The new Camera Finder revolutionizes camera selection. Search across 2100+ cameras for 40 criteria, immediately returning precise matches so you can find the best fit for your specific needs. Thi...
Axis 4K Tested (P1428E)
on Oct 29, 2014
Two years ago, Axis declared the megapixel race over. Now, they are among the first to release a 4K (8.3MP) camera. However, the question is simply: do we really need more pixels? We bought an Ax...
Top Manufacturers Gaining and Losing Ground
on Oct 27, 2014
IPVM survey results of 100 integrators show what manufacturers are gaining and losing ground in 2014. Integrators answered 2 questions: "Added: This year, in 2014, what new product lines have you...