H.264 vs MJPEG - Quality and Bandwidth Tested
by John Honovich,
IPVM
posted on Jul 28, 2010
About John
Contact John
Encoding video optimally is critical for IP video surveillance systems. Should you choose H.264 or MJPEG? While industry momentum certainly favors H.264, when and how to best use H.264 are important questions.
We believe the 3 key questions in considering H.264 vs MJPEG are:
How much bandwidth savings does H.264 provide over MJPEG?
What type of image quality differences can you expect between H.264 and MJPEG?
What differences in computing load will you experience between H.264 and MJPEG?
This report provides our results and recommendations on the first two questions - bandwidth and image quality.From our tests, we recommend the following 3 key criteria to understand H.26/MJPEG's impact on quality and bandwidth:
Determine the complexity of the scene being captured/recorded
Determine the streaming mode / control of the camera being used
Determine the ratio of total frames to I frames (for H.264)
The tests reveal no magic numbers - the answer is not 80% bandwidth savings or 10% less quality (or any other single value for X or Y). While H.264 generally reduces bandwidth consumption significantly, it depends on multiple factors (including complexity, streaming mode, frame rate and i frame rate). VBR vs CBR selection is especially important, having a especially large impact on use and performance. Finally, while H.264 can deliver the same visible image quality as MJPEG, depending on the settings you use (especially streaming mode), you can easily generate worse quality.
Inside our premium report, we examine and explain each of these elements in-depth with a series of sample videos and tutorial video screencasts. The video introduction below overviews the approach we took: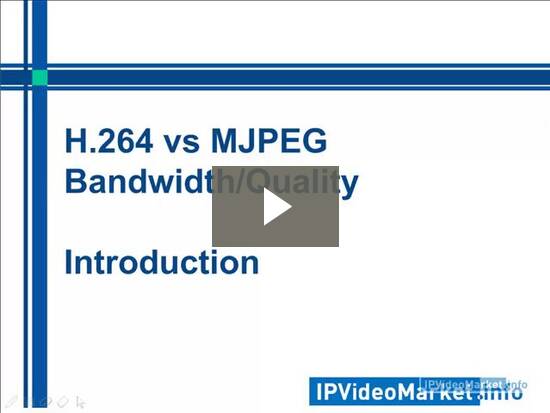 Premium members should allocate 1-3 hours to read the full report
The complete report is available only to PRO Members.
Most Recent Industry Reports
Testing Sony HD Dome Camera
on Sep 18, 2014
Top WDR and low light performance are generally only offered in manufacturer's high end cameras. In particular, Sony users historically needed to use their expensive high end V series cameras for ...
Lenel OnGuard Tested
on Sep 17, 2014
Lenel is one of the biggest names in Access Control with many thousands of systems installed around the globe.  In this report, we examine Lenel's OnGuard access management platform, look how...
Testing Axis High End HD Camera Q1615
on Sep 15, 2014
Axis core focus is the high end of the market. Their newest high end camera is the Q1615, aims to continue that, which they claim offers industry leading image quality and novel features, such as: ...
Testing Avigilon ACC 5 VMS
on Sep 10, 2014
In this report, we provide in-depth videos covering Avigilon Control Center 5's operation and configuration with 30+ minutes of screencasts providing clear explanations of ACC features including: ...
License Plate Recognition Axis App Tested
on Sep 08, 2014
License plate recognition (LPR) has historically been very expensive, requiring specialized hardware and software. An embedded LPR app from ipConfigure aims to change that, turning compatible Axis...
Testing March MegaPX Domes
on Sep 04, 2014
March Networks has been one of the bigger names in video surveillance recorders for a decade, with significant adoption especially in banking and retail. For a number of years, since the Cieffe&nb...
Milestone XProtect 2014 Tested
on Sep 03, 2014
In this third entry in our ongoing VMS test series we provide in-depth explanation and analysis of Milestone XProtect Enterprise 2014. Inside this report, we have 40+ minutes of video screenc...
The New Generation of Security Startups
on Sep 02, 2014
New entrants to the security market are few and far between. However, there is one area that is clearly driving new security startups - crowdfunding. Crowdfunding has grown from a curiosity ...
IP Camera Firmware Upgrade Directory
on Aug 28, 2014
Updating firmware can be one of the most tedious tasks involved in any IP camera system. It is not always clear what version is latest, what has changed or been fixed, and where to even download it...
Testing Hikvision High End Camera
on Aug 27, 2014
Chinese manufacturer, including the two mega ones, Dahua and Hikvision, are best known in the West for super low cost, entry level cameras. However, how well do their 'higher end' ones one work? ...