H.264 vs MJPEG - Quality and Bandwidth Tested
by John Honovich,
IPVM
posted on Jul 28, 2010
About John
Contact John
Encoding video optimally is critical for IP video surveillance systems. Should you choose H.264 or MJPEG? While industry momentum certainly favors H.264, when and how to best use H.264 are important questions.
We believe the 3 key questions in considering H.264 vs MJPEG are:
How much bandwidth savings does H.264 provide over MJPEG?
What type of image quality differences can you expect between H.264 and MJPEG?
What differences in computing load will you experience between H.264 and MJPEG?
This report provides our results and recommendations on the first two questions - bandwidth and image quality.From our tests, we recommend the following 3 key criteria to understand H.26/MJPEG's impact on quality and bandwidth:
Determine the complexity of the scene being captured/recorded
Determine the streaming mode / control of the camera being used
Determine the ratio of total frames to I frames (for H.264)
The tests reveal no magic numbers - the answer is not 80% bandwidth savings or 10% less quality (or any other single value for X or Y). While H.264 generally reduces bandwidth consumption significantly, it depends on multiple factors (including complexity, streaming mode, frame rate and i frame rate). VBR vs CBR selection is especially important, having a especially large impact on use and performance. Finally, while H.264 can deliver the same visible image quality as MJPEG, depending on the settings you use (especially streaming mode), you can easily generate worse quality.
Inside our premium report, we examine and explain each of these elements in-depth with a series of sample videos and tutorial video screencasts. The video introduction below overviews the approach we took: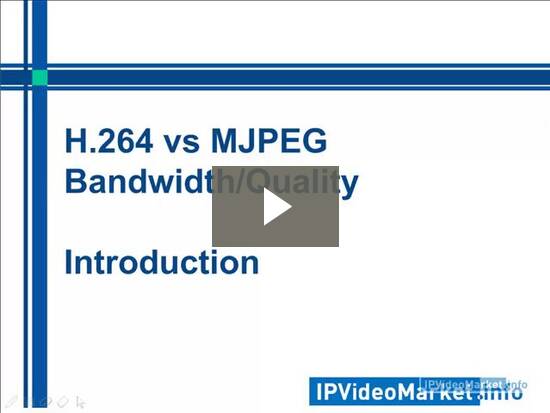 Premium members should allocate 1-3 hours to read the full report
The complete report is available only to PRO Members.
Comments
Only
PRO Members
can view and submit comments for this article.
Most Recent Industry Reports
130+ Company News Monitoring Service
on Mar 11, 2014
Now get weekly alerts on 130+ security companies, including new information from their websites as well as articles and discussions on them. This is the most powerful way to stay informed on the co...
License Plate Capture Shootout 2014
on Mar 10, 2014
What should you be using to capture license plates consistently? We tested 3 major types of cameras head to head to see the tradeoffs: Super Low Light cameras: Day / night MP cameras with advan...
IP Camera Bandwidth / Storage Shootout
on Mar 05, 2014
Bandwidth consumption can vary tremendously, even with the same resolution, frame rate, compression and scene, by 50% to 80% in our tests. This is because cameras process video differently (e.g., g...
Market Guide 2014: Video Analytics
on Mar 03, 2014
For more than a decade, video analytics has been the great hope for the surveillance industry. Indeed, it remains the pick as the Next Big Thing. Yet the past 2 years has been rough, with ObjectVi...
Testing Geovision MP License Plate Camera
on Feb 28, 2014
Capturing license plates is one of the most requested, and underserved areas, in IP cameras. The question comes up a lot, and there are not many purpose built options. One of the few IP / MP Licen...
Book Released: 2014 Access Control Training
on Feb 26, 2014
Just like we did an IP camera book, we are now doing one for access control. This is the best, most comprehensive access control training in the world, based on our unprecedented research. No...
Testing Honeywell HD WDR IP Camera
on Feb 25, 2014
Honeywell is a huge name, but not one well respected in video surveillance, unless you are an alarm dealer. The company was late into IP but now offers their own IP camera line, including their hi...
Worst VMS Manufacturers 2014
on Feb 24, 2014
With the favorite VMSes revealed, we now turn to the worst. We asked 120+ integrators from more than 20 countries: "In the past year, what VMS / NVR system have you had the worst experience wit...
IP Camera Manufacturer Compression Comparison
on Feb 21, 2014
Compression is very important. While resolution gets the attention, compression is critical and can be a silent killer - both for quality and bandwidth. Regardless of resolution, all surveillance ...
Camera Test: PPF Needed For IDs, Text, Money
on Feb 19, 2014
Need to see the fine print of a dollar bill, euro, driver's license or text on a document? We tested 3 different types of print. Currency, both the US dollar and the Euro: Identification card,...