H.264 vs MJPEG - Quality and Bandwidth Tested
by John Honovich,
IPVM
posted on Jul 28, 2010
About John
Contact John
Encoding video optimally is critical for IP video surveillance systems. Should you choose H.264 or MJPEG? While industry momentum certainly favors H.264, when and how to best use H.264 are important questions.
We believe the 3 key questions in considering H.264 vs MJPEG are:
How much bandwidth savings does H.264 provide over MJPEG?
What type of image quality differences can you expect between H.264 and MJPEG?
What differences in computing load will you experience between H.264 and MJPEG?
This report provides our results and recommendations on the first two questions - bandwidth and image quality.From our tests, we recommend the following 3 key criteria to understand H.26/MJPEG's impact on quality and bandwidth:
Determine the complexity of the scene being captured/recorded
Determine the streaming mode / control of the camera being used
Determine the ratio of total frames to I frames (for H.264)
The tests reveal no magic numbers - the answer is not 80% bandwidth savings or 10% less quality (or any other single value for X or Y). While H.264 generally reduces bandwidth consumption significantly, it depends on multiple factors (including complexity, streaming mode, frame rate and i frame rate). VBR vs CBR selection is especially important, having a especially large impact on use and performance. Finally, while H.264 can deliver the same visible image quality as MJPEG, depending on the settings you use (especially streaming mode), you can easily generate worse quality.
Inside our premium report, we examine and explain each of these elements in-depth with a series of sample videos and tutorial video screencasts. The video introduction below overviews the approach we took: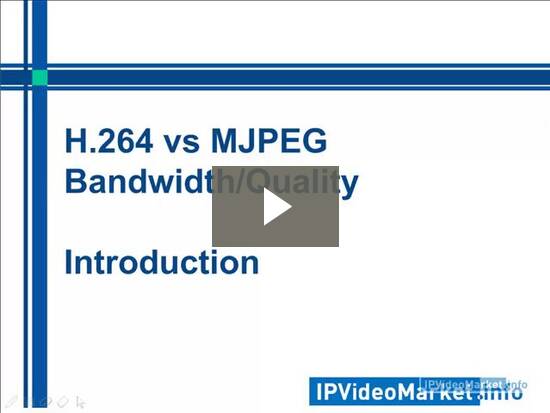 Premium members should allocate 1-3 hours to read the full report
The complete report is available only to PRO Members.
Comments
Only
PRO Members
can view and submit comments for this article.
Most Recent Industry Reports
Testing the Resolution of the Human Eye
on Dec 04, 2013
All sorts of wild guesses and theoretical calculations exist about what the resolution of the human eye is, with 576MP a common claim. No one we can find has ever actually tested it . . . until no...
Hikvision Cameras Tested
on Dec 02, 2013
Hikvision claims to be the #1 surveillance manufacturer in the world. That's, well, debatable. What's not in dispute is that they have become huge, fueled by the massive Chinese market, with ...
Testing New Dropcam Pro Camera
on Nov 25, 2013
VSaaS, overall, has been a disaster with nearly every provider, including gorilla Axis, struggling to make it big. The one clear exception has been Dropcam. It's end to end solution, targeted for ...
Bosch Flexidome Micro Shootout
on Nov 22, 2013
Minidomes are very popular, likely the most popular of all IP camera form factors, due to their relative low cost and small size. Earlier this year, we tested 3 Axis M30 minidomes. Now, we are test...
10MP vs 5MP vs HD Shootout
on Nov 20, 2013
HD cameras are commonplace. Everyone offers 1080p. The big question now is how much better is 5MP or 10MP? Is a 10MP camera 5 times better than 1080p as pixel count proponents claim? In this repor...
VMS Mobile Apps Guide
on Nov 19, 2013
Every VMS supplier has mobile app clients now, even if many are still not using them. However, significant differences can exist across VMS implementations. In this guide, we review 15 key feature...
Samsung Wisenet III Camera Shootout
on Nov 18, 2013
Samsung has never been a serious player in IP cameras, despite their success in other markets. Now, Samsung is pushing their Wisenet III release as their breakthrough offering. Is it really? We b...
Camera Selection Guide
on Nov 14, 2013
Entrances, hallways, rooms and parking lots are perhaps the 4 most common areas where surveillance is deployed. But what is the best type of camera for each? What resolution, form factors and FoV a...
Winners & Losers Fall 2013
on Nov 04, 2013
New product releases were terrible this fall. The biggest news was the debatable entry of Axis and Milestone into access control. But the biggest gains might be for Chinese manufacturers who are an...
Testing Geovision Mini IR Camera
on Nov 01, 2013
Integrated IR continues to be a growing trend, moving into cameras at both the high and low ends of the spectrum. One new model from Geovision, the 1.3MP GV-UBX1301 claims 10m illumination ran...