H.264 vs MJPEG - Quality and Bandwidth Tested
by John Honovich,
IPVM
posted on Jul 29, 2010
About John
Contact John
Encoding video optimally is critical for IP video surveillance systems. Should you choose H.264 or MJPEG? While industry momentum certainly favors H.264, when and how to best use H.264 are important questions.
We believe the 3 key questions in considering H.264 vs MJPEG are:
How much bandwidth savings does H.264 provide over MJPEG?
What type of image quality differences can you expect between H.264 and MJPEG?
What differences in computing load will you experience between H.264 and MJPEG?
This report provides our results and recommendations on the first two questions - bandwidth and image quality.From our tests, we recommend the following 3 key criteria to understand H.26/MJPEG's impact on quality and bandwidth:
Determine the complexity of the scene being captured/recorded
Determine the streaming mode / control of the camera being used
Determine the ratio of total frames to I frames (for H.264)
The tests reveal no magic numbers - the answer is not 80% bandwidth savings or 10% less quality (or any other single value for X or Y). While H.264 generally reduces bandwidth consumption significantly, it depends on multiple factors (including complexity, streaming mode, frame rate and i frame rate). VBR vs CBR selection is especially important, having a especially large impact on use and performance. Finally, while H.264 can deliver the same visible image quality as MJPEG, depending on the settings you use (especially streaming mode), you can easily generate worse quality.
Inside our premium report, we examine and explain each of these elements in-depth with a series of sample videos and tutorial video screencasts. The video introduction below overviews the approach we took: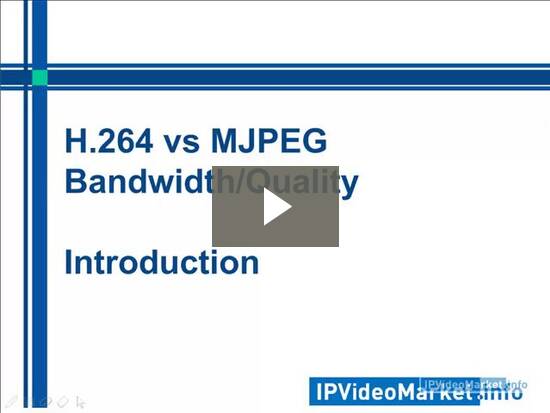 Premium members should allocate 1-3 hours to read the full report
Comments: Only PRO Members can view and submit comments for this article.
Most Recent Industry Reports
30 vs 60 FPS Shootout
on May 22, 2013
30 frames per second used to be the maximum practical limit for surveillance cameras. Now, it is becoming increasingly common for IP cameras to support double that, 60 frames per second. (For backg...
#1 IP Camera Benefit
on May 20, 2013
Megapixel was, far and away, the number #1 cited benefit in going to IP cameras / video. We asked over 100 integrators to name the "3 biggest reasons" they found, allowing them to name whatever the...
Testing VSaaS / Dropcam HD
on May 15, 2013
Dropcam is pretty clearly the strongest upstart in the VSaaS market. While Axis has pushed their hosted service offering for years, it is beset by poor ROI and weak performance. There are dozens of...
Testing Panoramic Cameras Outdoors
on May 13, 2013
Outdoors, PTZs tend to be a favorite for covering large open areas but they only see whatever they are currently pointed at. Panoramics are an emerging alternative but how well do they perform and ...
Testing CarCam
on May 08, 2013
Dash cams are getting a lot of attention for the amazing video they inadvertently capture, like a crashing 747 in Afghanistan, a meteor explosion, Russian crazy fights and accidents, etc. Moreov...
#1 IP Camera Problem
on May 07, 2013
Cost was, far and away, the number #1 cited problem in going to IP cameras / video. We asked over 100 integrators to name the "3 biggest problems / barriers" they found, allowing them to name whate...
Testing Covert Cameras
on May 02, 2013
Covert cameras are regularly referenced in TV shows and undercover reporting. We ordered two of the most frequently sold covert cameras on Amazon - a Car Key cam and a PenCam, as shown below: We...
Stop The Lying and Crazy Claims
on Apr 29, 2013
The last few weeks have been an embarrassment for surveillance, with a small number of companies turning this into a despicable marketing campaign perpetuating lies and crazy myths about what surve...
Panoramic Camera Shootout
on Apr 22, 2013
Panoramic cameras are one of the hottest growing markets within surveillance. The combination of multi-megapixel resolution and super wide FoVs claims to deliver greater coverage than conventional ...
Top Trends in Access Control
on Apr 17, 2013
All of a sudden, Access Control has momentum? After a long period of apparent stagnation and staleness, new technologies and devoted marketing campaigns have breathed life into the segment. Indeed,...