H.264 vs MJPEG - Quality and Bandwidth Tested
by John Honovich,
IPVM
posted on Jul 28, 2010
About John
Contact John
Encoding video optimally is critical for IP video surveillance systems. Should you choose H.264 or MJPEG? While industry momentum certainly favors H.264, when and how to best use H.264 are important questions.
We believe the 3 key questions in considering H.264 vs MJPEG are:
How much bandwidth savings does H.264 provide over MJPEG?
What type of image quality differences can you expect between H.264 and MJPEG?
What differences in computing load will you experience between H.264 and MJPEG?
This report provides our results and recommendations on the first two questions - bandwidth and image quality.From our tests, we recommend the following 3 key criteria to understand H.26/MJPEG's impact on quality and bandwidth:
Determine the complexity of the scene being captured/recorded
Determine the streaming mode / control of the camera being used
Determine the ratio of total frames to I frames (for H.264)
The tests reveal no magic numbers - the answer is not 80% bandwidth savings or 10% less quality (or any other single value for X or Y). While H.264 generally reduces bandwidth consumption significantly, it depends on multiple factors (including complexity, streaming mode, frame rate and i frame rate). VBR vs CBR selection is especially important, having a especially large impact on use and performance. Finally, while H.264 can deliver the same visible image quality as MJPEG, depending on the settings you use (especially streaming mode), you can easily generate worse quality.
Inside our premium report, we examine and explain each of these elements in-depth with a series of sample videos and tutorial video screencasts. The video introduction below overviews the approach we took: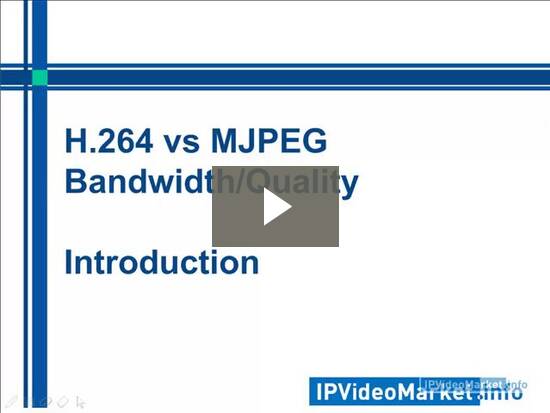 Premium members should allocate 1-3 hours to read the full report
The complete report is available only to PRO Members.
Most Recent Industry Reports
2015 Video Surveillance Guide
on Jan 27, 2015
The 250+ page, 2015 Video Surveillance Industry Guide, covering the key events and the future of the video surveillance market, is now available. Table of Contents How To Get It There are 3 ...
How to Hack an ADT Alarm System
on Jan 26, 2015
This report explains the key steps in hacking an alarm system, like ADT, as was presented in a Defcon 22 presentation. The risk of such a hack has become major news as a class action lawsuit was f...
Bosch 4K Tested
on Jan 21, 2015
4K promises more pixels but does it undermine WDR and low light performance? We tested the Axis 4K camera and there were certainly issues. Now, we tested the Bosch 4K camera, the Dinion IP Ultra ...
Largest New Video Surveillance Projects
on Jan 19, 2015
140 video surveillance professionals, including integrators and manufacturers, shared the largest video surveillance projects that they have seen in the past year. Key Patterns The survey results...
IP Networking for Video Surveillance Course
on Jan 18, 2015
This is the first networking course designed specifically for video surveillance professionals. IPVM is launching an IP Networking for Video Surveillance Course, starting March 10th. Lots of netw...
Bosch Buys $190 Million Integrator
on Jan 16, 2015
The big deals continue. This time, Bosch has bought a US integrator, Climatec, that did ~$190 million in 2014 revenue.
Testing $50 Mini NVR
on Jan 14, 2015
As an NVR, this performed very really badly. But, as a member suggested to us, could a $50 mini NVR be used as an IP / HD spot monitor? Adding a spot monitor or public view display in an IP sur...
Axis Analytics Vs Avigilon Tested
on Jan 12, 2015
Axis has released the next generation of their advanced video motion detection application, VMD 3.0. It promises improvements in false alarm rates compared to its predecessor, with new features lik...
Designing Access Control Guide
on Jan 08, 2015
Designing an access control solution requires decisions on 8 fundamental questions. This in-depth guide helps you understand the options and tradeoffs involved in designing an excellent access cont...