H.264 vs MJPEG - Quality and Bandwidth Tested
by John Honovich,
IPVM
posted on Jul 28, 2010
About John
Contact John
Encoding video optimally is critical for IP video surveillance systems. Should you choose H.264 or MJPEG? While industry momentum certainly favors H.264, when and how to best use H.264 are important questions.
We believe the 3 key questions in considering H.264 vs MJPEG are:
How much bandwidth savings does H.264 provide over MJPEG?
What type of image quality differences can you expect between H.264 and MJPEG?
What differences in computing load will you experience between H.264 and MJPEG?
This report provides our results and recommendations on the first two questions - bandwidth and image quality.From our tests, we recommend the following 3 key criteria to understand H.26/MJPEG's impact on quality and bandwidth:
Determine the complexity of the scene being captured/recorded
Determine the streaming mode / control of the camera being used
Determine the ratio of total frames to I frames (for H.264)
The tests reveal no magic numbers - the answer is not 80% bandwidth savings or 10% less quality (or any other single value for X or Y). While H.264 generally reduces bandwidth consumption significantly, it depends on multiple factors (including complexity, streaming mode, frame rate and i frame rate). VBR vs CBR selection is especially important, having a especially large impact on use and performance. Finally, while H.264 can deliver the same visible image quality as MJPEG, depending on the settings you use (especially streaming mode), you can easily generate worse quality.
Inside our premium report, we examine and explain each of these elements in-depth with a series of sample videos and tutorial video screencasts. The video introduction below overviews the approach we took: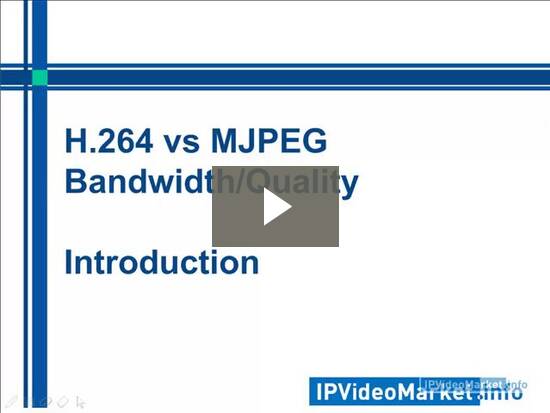 Premium members should allocate 1-3 hours to read the full report
The complete report is available only to PRO Members.
Most Recent Industry Reports
Winners Losers Spring 2015
on May 18, 2015
The industry is in the midst of major changes. Consolidation, driven by commoditization and declining financials, is real. New products are moderately better than last year, but still not enough t...
Free Top IPVM Resources
on May 16, 2015
Here are 12 of the top IPVM resources, available for free. Members, if you want to share / introduce IPVM to a friend, this directory is a great start so they can see the outstanding informati...
Testing Dahua HDCVI Encoder With VMSes
on May 14, 2015
HD Analog cameras have incredibly low prices for true HD video. But HD analog recorders are pretty simplistic and underwhelming. Moreover, many want to use HD analog cameras with their establishe...
The $100 MP Era is Here
on May 13, 2015
The video surveillance industry has entered a new era. This era is disrupting the biggest players in the industry and changing long-held industry dynamics. The Old Era - 2009 to 2013 ...
Samsung Wisenet Lite Cameras Tested
on May 11, 2015
Far lower-cost MP cameras are a major trend now. So far, the 'Chinese' have been leading the way here. Samsung's Wisenet III series hit the market offering performance similar to more expensive h...
Testing IP Camera Test Monitor (Tatung)
on May 06, 2015
Integrators frequently cited insufficient installation tools as one of the key problems of IP camera installation. While many use a laptop, the size and necessary accessory devices to do this make ...
WDR Camera Shootout 2015
on May 04, 2015
This is the most comprehensive Wide Dynamic Range (WDR) IP camera shootout ever. We tested 10 of the latest generation multiple-exposure true WDR cameras, including: Arecont Vision AV3116DNv1 ...
Uniview Chinese Camera Tested
on Apr 28, 2015
The company claims $263 million in 2013 revenue and to be the third largest Chinese surveillance manufacturer (after Hikvision and Dahua). Despite being owned by American investment firm Bain Capi...
Google Maps Camera Calculator Released
on Apr 27, 2015
The new IPVM Google Maps Camera Calculator empowers surveillance professionals to plan and design systems like never before. Whatever project you are working on, enter the address and start mappin...