H.264 vs MJPEG - Quality and Bandwidth Tested
by John Honovich,
IPVM
posted on Jul 28, 2010
About John
Contact John
Encoding video optimally is critical for IP video surveillance systems. Should you choose H.264 or MJPEG? While industry momentum certainly favors H.264, when and how to best use H.264 are important questions.
We believe the 3 key questions in considering H.264 vs MJPEG are:
How much bandwidth savings does H.264 provide over MJPEG?
What type of image quality differences can you expect between H.264 and MJPEG?
What differences in computing load will you experience between H.264 and MJPEG?
This report provides our results and recommendations on the first two questions - bandwidth and image quality.From our tests, we recommend the following 3 key criteria to understand H.26/MJPEG's impact on quality and bandwidth:
Determine the complexity of the scene being captured/recorded
Determine the streaming mode / control of the camera being used
Determine the ratio of total frames to I frames (for H.264)
The tests reveal no magic numbers - the answer is not 80% bandwidth savings or 10% less quality (or any other single value for X or Y). While H.264 generally reduces bandwidth consumption significantly, it depends on multiple factors (including complexity, streaming mode, frame rate and i frame rate). VBR vs CBR selection is especially important, having a especially large impact on use and performance. Finally, while H.264 can deliver the same visible image quality as MJPEG, depending on the settings you use (especially streaming mode), you can easily generate worse quality.
Inside our premium report, we examine and explain each of these elements in-depth with a series of sample videos and tutorial video screencasts. The video introduction below overviews the approach we took: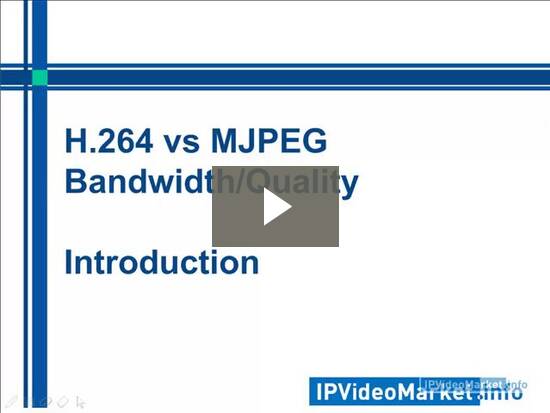 Premium members should allocate 1-3 hours to read the full report
The complete report is available only to PRO Members.
Most Recent Industry Reports
Best Manufacturer Support 2014
on Jul 28, 2014
Integrators told us whom the best and worst manufacturers are at providing customer support were. The companies that stood out included Arecont Vision, Avigilon, Axis, Exacq, Genetec, Hikvision, L...
Testing Genetec Security Center
on Jul 23, 2014
This is IPVM's first in a series of all new, in-depth test reports on video management software. We start with Genetec's Security Center. Here's a 50 second video overview: Inside this report a...
Panasonic Series 6 IP Cameras Tested
on Jul 21, 2014
Can Panasonic make a comeback? One of the early entrants in IP cameras, Panasonic has been slipping, dues to faster and more aggressive competitors. Now, Panasonic has released a sixth generation...
Favorite Access Control Software 2014
on Jul 16, 2014
What are the favorite access control software platforms? Is it the elder incumbents like Honeywell, Lenel and Software House? Or can newer providers like Brivo, Genetec or S2 make a dent? Just lik...
Testing Samsung vs Google/Dropcam
on Jul 14, 2014
Samsung is charging hard into IP cameras. Last year, they attacked the professional market with their WiseNet III launch. Now, they are going after the consumer / residential market with their "Sm...
Summer 2014 IP Camera Course
on Jul 10, 2014
Registration is CLOSED. IPVM's industry leading IP camera course provides certification and enables you to master the key concepts, drivers and factors in selecting and deploying modern surveillan...
Testing the Smallest HD Cameras
on Jul 09, 2014
Miniature HD IP cameras are a growing trend. It started with cameras that had small 'heads' but large 'base' units. Increasingly, though, the bases are shrinking. Recently, we even found one withou...
IP Camera Statistics 2014
on Jul 07, 2014
All IPVM members can download our new IP Camera Statistics 2014 report.  Here's what's inside the 54 page guide: This is a companion report to Favorite IP Cameras 2014, Worst IP Cameras ...
Testing Varifocal Minidome (IQeye)
on Jul 02, 2014
Minidomes are increasing in popularity, as IPVM statistics show. However, the most common objection to using minidomes is the lack of varifocal lenses. In this report, we tested the IQinVision&nbs...
Testing Canon IP Cameras
on Jun 30, 2014
Canon now owns one of the top global VMS offerings but how good are their IP cameras? Will the combination of Canon IP cameras and Milestone VMS create the next Avigilon? Or will Canon's cameras b...