H.264 vs MJPEG - Quality and Bandwidth Tested
by John Honovich,
IPVM
posted on Jul 28, 2010
About John
Contact John
Encoding video optimally is critical for IP video surveillance systems. Should you choose H.264 or MJPEG? While industry momentum certainly favors H.264, when and how to best use H.264 are important questions.
We believe the 3 key questions in considering H.264 vs MJPEG are:
How much bandwidth savings does H.264 provide over MJPEG?
What type of image quality differences can you expect between H.264 and MJPEG?
What differences in computing load will you experience between H.264 and MJPEG?
This report provides our results and recommendations on the first two questions - bandwidth and image quality.From our tests, we recommend the following 3 key criteria to understand H.26/MJPEG's impact on quality and bandwidth:
Determine the complexity of the scene being captured/recorded
Determine the streaming mode / control of the camera being used
Determine the ratio of total frames to I frames (for H.264)
The tests reveal no magic numbers - the answer is not 80% bandwidth savings or 10% less quality (or any other single value for X or Y). While H.264 generally reduces bandwidth consumption significantly, it depends on multiple factors (including complexity, streaming mode, frame rate and i frame rate). VBR vs CBR selection is especially important, having a especially large impact on use and performance. Finally, while H.264 can deliver the same visible image quality as MJPEG, depending on the settings you use (especially streaming mode), you can easily generate worse quality.
Inside our premium report, we examine and explain each of these elements in-depth with a series of sample videos and tutorial video screencasts. The video introduction below overviews the approach we took: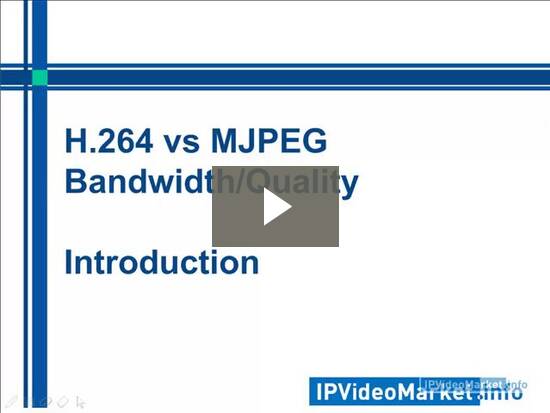 Premium members should allocate 1-3 hours to read the full report
The complete report is available only to PRO Members.
Most Recent Industry Reports
Dahua vs Bosch and Axis 4K Cameras
on Mar 02, 2015
4K is here, but not without issues. High prices and poor low light performance constrain adoption. Now Dahua, one of the two Chinese mega-manufacturers, known for its incredibly low-cost HDCVI li...
Super Low Cost Chinese Camera Shootout
on Feb 25, 2015
The 'Chinese' are the industry's #1 threat (or opportunity depending on one's perspective). IPVM has extensively covered the rise of Dahua and Hivkision (see test results). But those tw...
Warning: Case Studies Can Get You Sued
on Feb 24, 2015
What do 24 Hour Fitness, Barnes and Nobles and multiple hospitals have in common? They have all been sued in the past few months, with their manufacturer case studies used as evidence.  They...
Genetec AutoVu LPR Camera Tested
on Feb 23, 2015
License plate video is one of the most requested elements of video surveillance. IPVM has done many tests on license plate cameras, including the: License Plate Capture Shootout Low Cost Licen...
Shootout: 4K vs PTZ Cameras
on Feb 19, 2015
Resolutions continue upwards, with 4K cameras hitting the street. Meanwhile, PTZ usage continues its downward trend, with fewer and fewer integrators choosing them. The question is: how does this ...
Testing FLIR IR PTZ
on Feb 17, 2015
FLIR's integrated IR PTZ, the DNZ30TL2R claims a whopping 150m (~500') IR range and HD resolution. Distances like these have historically been possible only with expensive high-end positioning syst...
Canon to Buy Axis, Will Own Axis and Milestone
on Feb 10, 2015
This is the biggest deal in video surveillance ever. Just 8 months after buying Milestone, Canon is set to buy Axis. Canon has offered $2.8 billion USD for Axis, a ~50% premium over Axis stock pr...
BestMatch Camera Software Released
on Feb 09, 2015
Our new camera comparison algorithm, BestMatch, enables you to find the best camera for your needs at up to 70% lower price. Watch this quick 2 minute video that shows how you will benefit from th...
Hikvision HDTVI Long Distance Problem Tested
on Feb 05, 2015
Hikvision's HDTVI cameras performed poorly over low quality or long coax and UTP cables in our original tests. This was a major issue as a key selling point of analog HD technol...
Network Monitoring / SNMP for Video Surveillance Guide
on Feb 02, 2015
Surveillance systems typically rely on the the VMS to report issues, but this most often just means knowing a camera is "down" with no warning or detailed information. Network monitoring syst...