H.264 vs MJPEG - Quality and Bandwidth Tested
by John Honovich,
IPVM
posted on Jul 28, 2010
About John
Contact John
Encoding video optimally is critical for IP video surveillance systems. Should you choose H.264 or MJPEG? While industry momentum certainly favors H.264, when and how to best use H.264 are important questions.
We believe the 3 key questions in considering H.264 vs MJPEG are:
How much bandwidth savings does H.264 provide over MJPEG?
What type of image quality differences can you expect between H.264 and MJPEG?
What differences in computing load will you experience between H.264 and MJPEG?
This report provides our results and recommendations on the first two questions - bandwidth and image quality.From our tests, we recommend the following 3 key criteria to understand H.26/MJPEG's impact on quality and bandwidth:
Determine the complexity of the scene being captured/recorded
Determine the streaming mode / control of the camera being used
Determine the ratio of total frames to I frames (for H.264)
The tests reveal no magic numbers - the answer is not 80% bandwidth savings or 10% less quality (or any other single value for X or Y). While H.264 generally reduces bandwidth consumption significantly, it depends on multiple factors (including complexity, streaming mode, frame rate and i frame rate). VBR vs CBR selection is especially important, having a especially large impact on use and performance. Finally, while H.264 can deliver the same visible image quality as MJPEG, depending on the settings you use (especially streaming mode), you can easily generate worse quality.
Inside our premium report, we examine and explain each of these elements in-depth with a series of sample videos and tutorial video screencasts. The video introduction below overviews the approach we took: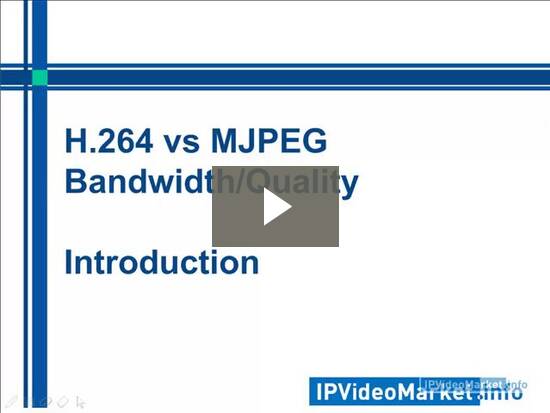 Premium members should allocate 1-3 hours to read the full report
The complete report is available only to PRO Members.
Comments
Only
PRO Members
can view and submit comments for this article.
Most Recent Industry Reports
Genetec and Milestone Access Tested
on Apr 23, 2014
Video management software companies entering access control is a growing trend. One of the first to do this was Genetec, who now has a long history in both video and access. Indeed, they market th...
7 Key Surveillance Trends for 2014
on Apr 21, 2014
Here are the 7 key trends we see for the video surveillance market emerging in 2014: Low cost camera manufacturer competitive shift FLIR and Samsung aggressive expansion 4K camera problems e...
Testing Vivotek Smart Stream
on Apr 18, 2014
Reduce storage costs by 30%, claims Vivotek. Their new "Smart Stream" feature intelligently compresses video streams such that moving objects get higher quality than background, stationary pa...
ONVIF Mega Test
on Apr 16, 2014
In this groundbreaking report, we share findings of in-depth ONVIF testing. ONVIF Real World Integration We tested 14 camera manufacturers with 5 VMSes, performing 70 total integrations. The cam...
7 Quizzes - Can You Pass?
on Apr 14, 2014
A major new offering, now IPVM members can take a series of 7 quizzes, plus they can assign them to their co-workers who are also IPVM members. 7 Quizzes to Start We are starting with 7 quiz...
Super Low Lux Minidome Tested
on Apr 10, 2014
'Super' low light cameras have become increasingly common in box and full size cameras. However, no one we know has offered them in a minidome, the most common form factor for many users, valu...
Testing 'Megapixel' Analog Camera
on Mar 26, 2014
Megapixel analog sounds like a contradiction in terms. 'Analog' by definition, or at least in common use, is constrained by 60+ year old NTSC / PAL specifications and cannot be 'megapixel.' Howeve...
Ranking 95 Surveillance Manufacturers Interest
on Mar 24, 2014
IPVM has ranked interest levels in 95 surveillance manufacturers from most to least. These are the companies covered: Over 400 IPVM members selected which of these companies they were interested...
2014 Surveillance Test Results Guide Released
on Mar 19, 2014
Inside, get the 50 page IPVM 2014 Surveillance Test Results Guide and register for the 1 hour live webinar. In the past year, IPVM has spent thousands of hours conducting over 75 tests, representi...
Testing Pelco SureVision 2.0
on Mar 17, 2014
Pelco's new SureVision 2.0 line promises superior low light and wide dynamic range capabilities, claiming "industry-leading image quality in the most difficult lighting conditions." But does it del...