H.264 vs MJPEG - Quality and Bandwidth Tested
by John Honovich,
IPVM
posted on Jul 28, 2010
About John
Contact John
Encoding video optimally is critical for IP video surveillance systems. Should you choose H.264 or MJPEG? While industry momentum certainly favors H.264, when and how to best use H.264 are important questions.
We believe the 3 key questions in considering H.264 vs MJPEG are:
How much bandwidth savings does H.264 provide over MJPEG?
What type of image quality differences can you expect between H.264 and MJPEG?
What differences in computing load will you experience between H.264 and MJPEG?
This report provides our results and recommendations on the first two questions - bandwidth and image quality.From our tests, we recommend the following 3 key criteria to understand H.26/MJPEG's impact on quality and bandwidth:
Determine the complexity of the scene being captured/recorded
Determine the streaming mode / control of the camera being used
Determine the ratio of total frames to I frames (for H.264)
The tests reveal no magic numbers - the answer is not 80% bandwidth savings or 10% less quality (or any other single value for X or Y). While H.264 generally reduces bandwidth consumption significantly, it depends on multiple factors (including complexity, streaming mode, frame rate and i frame rate). VBR vs CBR selection is especially important, having a especially large impact on use and performance. Finally, while H.264 can deliver the same visible image quality as MJPEG, depending on the settings you use (especially streaming mode), you can easily generate worse quality.
Inside our premium report, we examine and explain each of these elements in-depth with a series of sample videos and tutorial video screencasts. The video introduction below overviews the approach we took: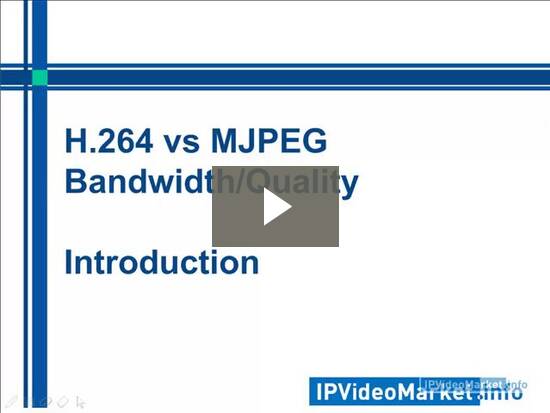 Premium members should allocate 1-3 hours to read the full report
The complete report is available only to PRO Members.
Most Recent Industry Reports
IP Networking Book Released
on Mar 23, 2015
This is the first ever IP Networking Book for Video Surveillance. The book will give you the knowledge and the confidence to make the right decisions when designing and deploying video surveillanc...
Member Invites Released
on Mar 18, 2015
Members ask regularly how can they share IPVM content with their customers, colleagues, friends, etc. Now, we are introducing 'invites' that allow eligible members to give 1 month free IPVM member...
Axis vs Hikvision vs Sony Encoder Test
on Mar 18, 2015
In this report, we share test findings of three popular four port analog SD encoder models: Axis P7214 Hikvision DS-6704HFI Sony SNT-EX104 Below, we share our findings in areas including: ...
Remote Network Access for Video Surveillance
on Mar 13, 2015
Remotely accessing video is difficult for 3 reasons. Private Networks Almost all video surveillance uses private IP addresses, that are by definition, not accessible directly over the public Inte...
TCP vs UDP for Video Surveillance
on Mar 11, 2015
TCP or UDP? What should you use for video surveillance? TCP and UDP are both in use in the video industry today, each with strengths and weaknesses when it comes to live viewing, playback, error ...
CBR vs VBR vs MBR - Surveillance Streaming
on Mar 11, 2015
How you stream video has a major impact on quality and bandwidth. And it is not simply CODEC choice (like H.264, H.265, MPEG-4, etc.) However, regardless of the CODEC, one still needs to choose ...
Tyco / Exacq Illustra Cameras Tested
on Mar 09, 2015
Prior to Tyco acquiring them, Exacq was one of the leading independent VMSes. Now, Tyco / Exacq is becoming a 'solution' provider, billing their Illustra cameras as: "The Easiest High Defini...
NMAPing IP Cameras
on Mar 05, 2015
The Hikvision hack has increased security concerns. Indeed, most users do not know whether they are vulnerable or not, which ports of their systems are open, and what services they may be running,...
Dahua vs Bosch and Axis 4K Cameras
on Mar 02, 2015
4K is here, but not without issues. High prices and poor low light performance constrain adoption. Now Dahua, one of the two Chinese mega-manufacturers, known for its incredibly low-cost HDCVI li...