H.264 vs MJPEG - Quality and Bandwidth Tested
by John Honovich,
IPVM
posted on Jul 28, 2010
About John
Contact John
Encoding video optimally is critical for IP video surveillance systems. Should you choose H.264 or MJPEG? While industry momentum certainly favors H.264, when and how to best use H.264 are important questions.
We believe the 3 key questions in considering H.264 vs MJPEG are:
How much bandwidth savings does H.264 provide over MJPEG?
What type of image quality differences can you expect between H.264 and MJPEG?
What differences in computing load will you experience between H.264 and MJPEG?
This report provides our results and recommendations on the first two questions - bandwidth and image quality.From our tests, we recommend the following 3 key criteria to understand H.26/MJPEG's impact on quality and bandwidth:
Determine the complexity of the scene being captured/recorded
Determine the streaming mode / control of the camera being used
Determine the ratio of total frames to I frames (for H.264)
The tests reveal no magic numbers - the answer is not 80% bandwidth savings or 10% less quality (or any other single value for X or Y). While H.264 generally reduces bandwidth consumption significantly, it depends on multiple factors (including complexity, streaming mode, frame rate and i frame rate). VBR vs CBR selection is especially important, having a especially large impact on use and performance. Finally, while H.264 can deliver the same visible image quality as MJPEG, depending on the settings you use (especially streaming mode), you can easily generate worse quality.
Inside our premium report, we examine and explain each of these elements in-depth with a series of sample videos and tutorial video screencasts. The video introduction below overviews the approach we took: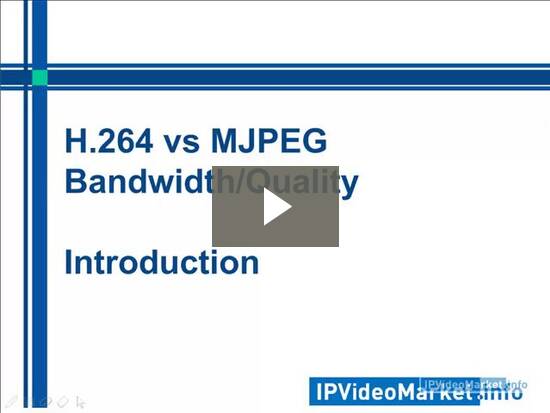 Premium members should allocate 1-3 hours to read the full report
The complete report is available only to PRO Members.
Most Recent Industry Reports
Avigilon Acquires All ObjectVideo Patents
on Dec 18, 2014
Wow. You thought Object Video played hardball suing large manufacturers like Bosch, Samsung, Sony, Pelco, etc. Now, Avigilon has acquired all of OV's patents for $80.3 million, and all of th...
Best & Worst Places to Buy Surveillance
on Dec 17, 2014
Stores, distributors, manufacturers, the Internet, Chinese spam emails? Today, there are more options to buy surveillance than ever. But what are the best and worst places to buy? IPVM surveyed ...
2015 IP Camera Book
on Dec 15, 2014
This is the best, most comprehensive IP camera training in the world, based on our unprecedented testing. Now, all IPVM PRO Members can get it in a single 300+ page ebook, downloadable inside. T...
Tested: Quality Worse Dome Bubble On?
on Dec 11, 2014
Often, industry professionals will warn about three problems with using domes: The dome bubble degrades image quality The degradation is worse with megapixel cameras The degradation is worse t...
Hikvision HDTVI VS Dahua HDCVI
on Dec 10, 2014
With super low cost and full HD video, Analog HD has the most potential to disrupt the surveillance market of any new technology in years. With 1080p HD IR cameras, routinely being priced at ~$100...
Testing Day vs Night With IR
on Dec 09, 2014
IR illumination helps. When it gets dark, especially real dark, with no nearby artifical lighting, pretty much every surveillance camera (even 'super' ones) are going to deliver signific...
Major Moves - Security Manufacturer 2014
on Dec 08, 2014
This guide summarizes the biggest moves of security manufacturers in 2014, concentrating on acquisitions, fund raising, significant stock price shifts and major new product lines introduced. ...
HD Analog DVRs With VMS Software Tested
on Dec 05, 2014
New HD analog offerings from Dahua and Hikvision have proven to deliver HD video at radically lower prices (see IPVM test results - Dahua HDCVI 1.0, Dahua HDCVI 2.0, Hikvision HDTVI). However...
Manufacturer Sales Pitches Revealed
on Dec 02, 2014
IPVM sent a 'secret shopper' to ISC East 2014 to talk to manufacturer sales reps at their booths. We wanted to understand and contrast how they pitched to a prototypical end user. Would they fol...
Rain Surveillance Shootout
on Nov 26, 2014
Rain can ruin surveillance video, and your housing choice might be making it worse. In this test, we shot out the five most common form factors of outdoor housing: box, full size dome, minidome, f...