H.264 vs MJPEG - Quality and Bandwidth Tested
by John Honovich,
IPVM
posted on Jul 28, 2010
About John
Contact John
Encoding video optimally is critical for IP video surveillance systems. Should you choose H.264 or MJPEG? While industry momentum certainly favors H.264, when and how to best use H.264 are important questions.
We believe the 3 key questions in considering H.264 vs MJPEG are:
How much bandwidth savings does H.264 provide over MJPEG?
What type of image quality differences can you expect between H.264 and MJPEG?
What differences in computing load will you experience between H.264 and MJPEG?
This report provides our results and recommendations on the first two questions - bandwidth and image quality.From our tests, we recommend the following 3 key criteria to understand H.26/MJPEG's impact on quality and bandwidth:
Determine the complexity of the scene being captured/recorded
Determine the streaming mode / control of the camera being used
Determine the ratio of total frames to I frames (for H.264)
The tests reveal no magic numbers - the answer is not 80% bandwidth savings or 10% less quality (or any other single value for X or Y). While H.264 generally reduces bandwidth consumption significantly, it depends on multiple factors (including complexity, streaming mode, frame rate and i frame rate). VBR vs CBR selection is especially important, having a especially large impact on use and performance. Finally, while H.264 can deliver the same visible image quality as MJPEG, depending on the settings you use (especially streaming mode), you can easily generate worse quality.
Inside our premium report, we examine and explain each of these elements in-depth with a series of sample videos and tutorial video screencasts. The video introduction below overviews the approach we took: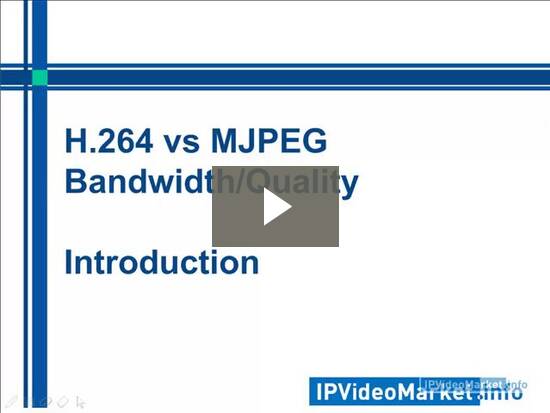 Premium members should allocate 1-3 hours to read the full report
The complete report is available only to PRO Members.
Most Recent Industry Reports
Testing Axis Zipstream
on Apr 13, 2015
Has Axis found its breakthrough differentiator? Can they demand a premium for this? Axis claims Zipstream can "lower bandwidth and storage requirements by an average 50% or more." We upgrade...
New Products Spring 2015
on Apr 12, 2015
After very poor new releases in 2014 (see Spring 2014 and Fall 2014 directories), 2015 is already much better. Here are new products being announced in 2015: Avigilon First to Demo 7K Cameras ...
FLIR FX Tested
on Apr 08, 2015
FLIR is going after the home / consumer surveillance market with their FLIR FX. A few of the notable competitive features offered: Video analytics for search (RapidRecap) Built-in Battery Buil...
IP Network Setup Guide for Surveillance
on Apr 06, 2015
In this guide, we teach the fundamentals of setting up an IP video surveillance network, taking factory default cameras through to a fully configured and ready to run network. We explain these topi...
Testing Messoa 3MP LPC Camera
on Apr 02, 2015
License plate recognition has historically required specialized cameras with limited general surveillance use. Messoa is aiming to change that with the LPR606, a higher resolution 3MP claiming sce...
Security Integrator Finder Released
on Apr 01, 2015
The new Security Integrator Finder's goal is to list every integrator in the world, overlaid on Google Maps. Here's how you benefit: Integrators can more easily be found by end users and manufa...
Milestone LPR Tested
on Mar 31, 2015
How well does Milestone's LPR work? Milestone's LPR supports off the shelf IP cameras, integrating license plate recognition with the Milestone Smart Client for live video, playback, and alar...
4K Panasonic Tested (Panoramic)
on Mar 25, 2015
Panasonic has released their first 4K cameras, and surprisingly, they are panoramic, which they tout include high sensitivity 1/2" image sensors, true WDR, auto back focus, and other feat...
IP Networking Book Released
on Mar 23, 2015
This is the first ever IP Networking Book for Video Surveillance. The book will give you the knowledge and the confidence to make the right decisions when designing and deploying video surveillanc...
Member Invites Released
on Mar 18, 2015
Members ask regularly how can they share IPVM content with their customers, colleagues, friends, etc. Now, we are introducing 'invites' that allow eligible members to give 1 month free IPVM member...