Join IPVM - Here's Why You Benefit
IPVM is trusted by 10,000+ professionals across 110+ countries to provide them the best, most timely, and accurate video surveillance information.
We are committed to helping you. We never sell products, never accept advertising, never run sponsorships nor consult for manufacturers. Our focus is delivering the highest quality information to you.
Plans and Prices
We offer multiple options for you to access the world's best video surveillance information:
Immediate Access
As soon as you sign up online, you get access to everything. Dive right in and learn about your specific interests or try to it absorb it all. Ask questions in our discussions or send us an email and we can help you make the most of your membership.
Bonus - 3 Free Guides
On the welcome / getting started page, you can immediately download 3 key guides - the IP Camera Guide, the IP Networking Guide and the Access Control Guide, that together offer 500 pages of up-to-date 2015 information and education. Choose what sections are most relevant and benefit immediately.
100% Guaranteed
We guarantee that you will be satisfied being an IPVM PRO member. If not, we will issue a 100% refund, within 30 days, no questions asked. Just email us at refund@ipvm.com or call us at 1 (800) 952 - IPVM.
What Our Members Say About IPVM PRO Membership
Here are a selection of unsolicited comments left by PRO members:
End user on IPVM: "I want to tell you how much IPVM helped me in my project and how much I appreciate the quality of IPVM. Lots of time people told me how come I know this and that and it was because of your team."
"This is exactly the kind of information that we need. Keep up the good work!"
"This one report alone is worth what I am paying for yearly dues for Pro access."
"You have done a phenomenal job of educating and demystifying."
"I had a customer ask me for some recommendations on, of all things, parking lot cameras! I was delighted to review your excellent piece on the subject."
"Beautiful piece of work."
"Great Report! Stuff like this makes paying the membership fee easy."
"I decided I needed an IPVM.COM subscription after I noticed multiple

vendor

complaining about John. You can identify a useful Internet information source by who they piss off ;-)"
"Your work is unparalleled both in the types of data you are collecting and the way you present it. This type of analysis is sorely needed to take this industry to the next step."
"What I love about these 'real world tests' is exactly that, your tests are based on scenarios that we encounter daily, not some theoretical bench test that "proves" their camera will capture identifiable images of an intruder at 100 yards with the lens cap on"
"You have done an excellent job and unfortunately for a lot of manufacturers 'the truth hurts'."
What You Get
We have 10,000+ members from over 110 countries. Here's what they (and you will) get:
Need More Than 10 User Logins?
We offer larger plans for users who want to share with more co-workers:
Need an Invoice or Pay by Wire Transfer?
Get an invoice immediately. If you are a government organization or large corporation, you may need an invoice before signing up or need to pay by wire transfer. We can help with both. Just fill our our invoice request and one will be emailed to you immediately.
Training
We provide extensive on-line training using video screencasts and tests to help you understand the fundamentals of video surveillance. Our training focuses on real world problems that generic IT training or manufacturer sponsored training generally avoids.
Company Reviews
We review companies every month with an emphasis on pointing out weakness, limitations and cost. These reviews help you to understand the real trade-offs involved, not simply the marketing hype.
Tests and Shootouts
We test new products multiple times per month providing in-depth screencasts that explain how products work in real world operation. We routinely uncover important limitations that must be understood to select products properly.
Below is an example of the image comparisons we provide to make it easy for you to see real differences between products in the field, showing variations between day/night cameras in low light:
Surveys
We run ongoing global surveys asking security professionals what they use, why they use it and what they prefer. These reports provide unique insights that can help you determine what to do in your own organization. Below are two sample images from survey results:
3700+ Total Posts
PRO members can access all of our 3300 reports and updates - the world's most extensive library of video surveillance information. Our goal is to provide information on all companies or technology of interest. If you do not find it, contact us and we will add it for you.
Get FREE Personal Help For Your Questions
Every month, we answer dozens of questions from members who need help on their specific projects and deployments. Become a Member and we will help you too. Learn more: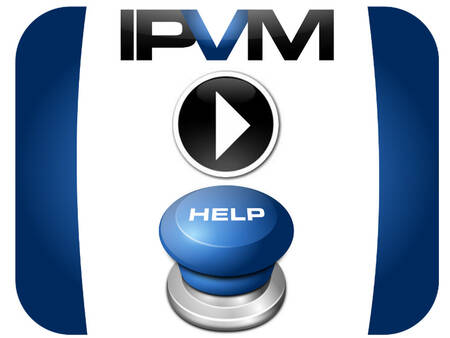 A single answer to your personal needs could more than pay for the price of membership, helping you solve important problems.
Market Analysis
We analyze emerging market trends with an emphasis on debunking hype and exaggerated claims. Our research and analysis on IP cameras and video analytics is the most well read, discussed and debated resource on these topics.
Technology Analysis
We constantly analyze and test new technologies to understand their current capabilities and future potential. HD analog, managed/hosted video and panoramic cameras are three key emerging technologies that we are currently covering in-depth.
Download PDF Copies
Group members can automatically generate PDF copies of any report on the site. Additionally, PDFs can be generated that aggregate all the information on any company into a single report. These PDFs can be downloaded, shared with other group members. While Personal members can read all reports online, in full, Group get the added convenience of easy downloading for later offline use.
Annual Industry Guides
Group subscribers receive 2 industry guides each year that summarize our analysis on the key trends, market changes and new products impacting the video surveillance industry. The Guides (emailed in PDF format) may be printed out and distributed internally.
Share with Co-Workers
Group members can create individual logins for co-worker. This allows employees to login and read any of the reports as well as set up their own custom news monitoring. Simply login and click on the 'Manage Users' link to add or delete logins for your co-workers.
More Members on the Value of IPVM PRO Membership
Here's more professionals on the value of IPVM:
From a video surveillance investor on a stock discussion forum: "IP Video Market is the most respected authority in the IP video market place."
From an integrator on twitter: "If you're not a PRO member, you should sign up for that. Invaluable, unbiased info."
From an online discussion about the 'best' security information sources, here are two unsolicited recommendations of IP Video Market: "Anything else is just bought by the manufacture and not an independent review of solutions.. you get what you pay for." A follow up comment: "Just know that if you're reading a review or recommendation from anyone other than ... IPVM, it's likely been paid for"
From an unsolicited Member email: "There is nothing like it. No other site that I've ever seen, for any industry or application, provides such current, useful and practical information as IPVM. Thanks again and congratulations for having the vision to provide this to the industry."
A member doing research on using surveillance in hazardous environments, "Your insights and resource links saved me HOURS of work. I'm glad i checked IPVM first!"
100% Money Back Guarantee
You may request 100% of your money back at anytime with no reasons required and no questions asked. Just email us at refund@ipvm.com or call us at 1 (800) 952 - IPVM. We are confident in the quality and uniqueness of our service.
Easy Cancellation
You may cancel on-line at any time. Simply login and click on the 'Cancel Account' link. No need to talk or deal with anyone.
Bonus - Free Guide
Remember - Join today and get our Surveillance Statistics Handbook, a 50 page guide featuring 40+ charts/tables capturing what is being sold, used and deployed in the real world. Such reports typically cost $1,000+ but we will email it to you immediately upon joining.
Join Now
Join Now by choosing any of these 4 options below: